JICA-RI Research Fellow Suguru Miyazaki visited the Philippines from December 1-6, 2011 to conduct a field survey on the income of farmers in the rural province of La Union in Northern Luzon. The survey was part of JICA-RI's research project, "An Empirical Study of the Impact of Infrastructure Building in Filipino Farms: the Role of Space, Infrastructure and Human Capital and the Impact of the Financial Crisis." Through surveys targeting over 1,000 households across three provinces, the project aims to identify factors in economic development and impediments to it in each region, and propose specific poverty reduction solutions.
Data collection was completed with the 2010 survey and analysis is now underway. From it, a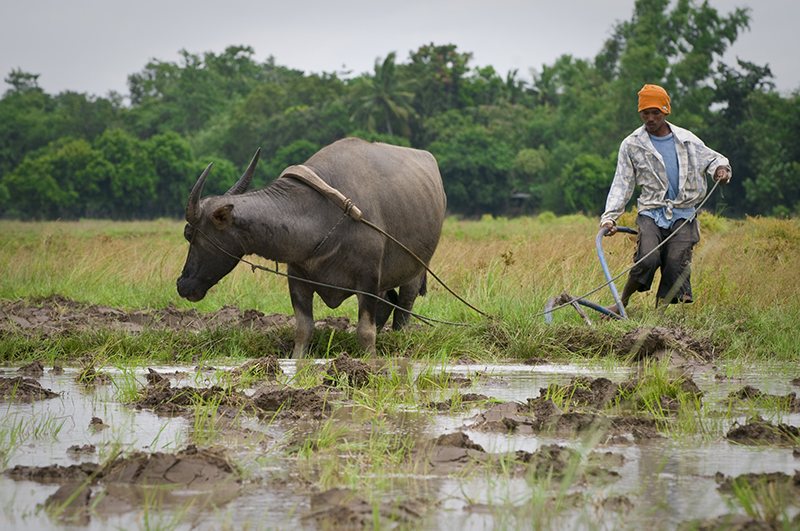 Photo Credit: Kenshiro Imamura/JICA
below hypothesis on the development process of Filipino farms has emerged:
1st Step: In Agrarian Reform Communities (ARC) selected by the Philippine
government, irrigation and other infrastructure building leads to an increase
in farmer income.
2nd Step: After an increase in income or by pawning land obtained as a result of
agrarian reform, farmers invest more in education.
3rd Step: The next, educated generation chooses to work in the non-agricultural
sector.
4th Step: A workforce shortage in the ARC agriculture sector occurs while employment
opportunities within and outside the sector increase, and the effects of
development spread to the surrounding areas of the targeted ARCs (spillover
effect).
In most cases, resources for development can meet only a small portion of the demand. Therefore a "select and concentrate" approach is often adopted which experimentally pinpoints and targets one area out of a broad rural region to concentrate various measures for development.
If the above process is actually taking place, the "select and concentrate" approach should be effective in revealing the mechanism of spillover effects in development projects.
Naturally, it is important that a theory be supported by data for it to apply to the actual state of farms. So in this field survey, Miyazaki selected nine typical farm households in Puzon and Casilagan, La Union Province, and examined the validity and feasibility of the hypothesis through interviews.
Looking back on the field survey, Miyazaki says, "We were able to confirm that networks for migrant farm workers are being formed within and between villages. We also had the opportunity to interview farmers who have worked as migrant workers. This reflects the increase in employment within and outside ARC, which forms the final step in our hypothesis. So my impression is that our theory matches the actual situation on farms."
Miyazaki also organized a workshop in Manila to share and discuss the details of his hypothesis, current analysis results, and field survey results with local policymakers and academics.
While policymakers felt that the hypothesis seemed to match the actual state of farms, they also showed concern about how agricultural development is increasing the outflow of workers to the non-agricultural sector. To this, JICA's team responded that the shift in work force is an essential process of development. Those who do not own land and therefore cannot work thereby improve their chances of getting a job and benefit from development. JICA also pointed out the need for a strategy that is not limited to a specific sector.

| | |
| --- | --- |
| Day | December 01, 2011(Thu) - December 06, 2011(Tue) |
| Place | Philippines |