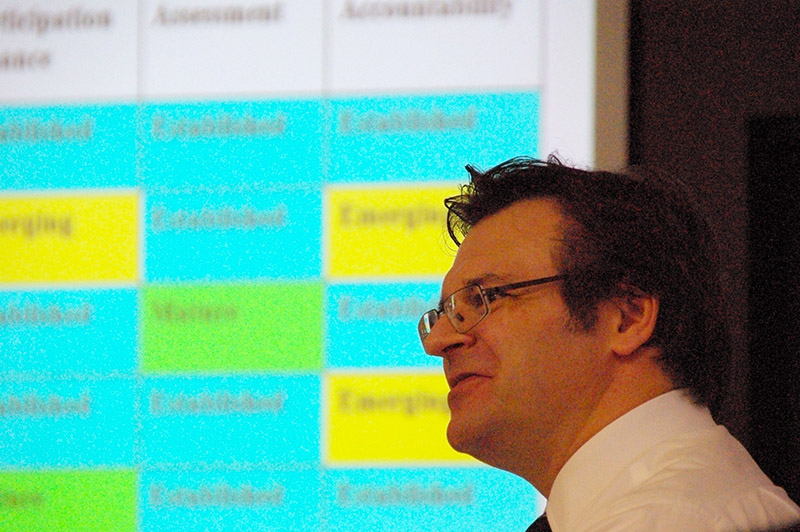 Dr. Harry Patrinos
As the latest series of events to move forward discussions on a collaborative project between JICA-RI and the World Bank, Dr. Harry Patrinos from the Bank's Human Development Network visited JICA-RI on November 25 and gave a presentation on System Assessment and Benchmarking for Education Results (SABER). As lead education economist there, Dr. Patrinos directs some of the policy domains of the SABER program – the Bank's developing tools with an ultimate goal to improve worldwide education outcomes (for more, go to past articles) -- and was in Tokyo to offer an overview of the program and updates on the Bank's work on SABER policy domains of "school autonomy and accountability" (SAA) and "equity and inclusion system."
Dr. Patrinos briefly explained the vision behind SABER and the logic to achieve learning by using this program. He explained that "to catalog and assess the quality of the policy framework" and "to collect and analyze data on policy execution" by country, region, and 17 policy domains would eventually lead to outcomes. Dr. Patrinos's presentation focused on the SAA domain, and some preliminary results from Europe and East Asia were shared as well as the comparative analysis on countries from the two regions.
As one of the first examples of SABER in practice, he introduced a recent case of Nigeria, where the World Bank is carrying out a project and has applied SABER results to boost education. Using the results, the Bank is talking to the local officials over how to turn around the situation.
In the presentation, Dr. Patrinos also spoke about the domain on equity. This domain is rather new and the World Bank is working to develop it in a 3-year plan, but in order to promote equity and inclusion in education, the Bank is trying to strengthen the knowledge base by identifying the causes, quantifying inequality gaps and finding out effective strategies, he said.
Following Dr.Patrinos's talk, Professor Kazuo Kuroda of Waseda University, who is a member of the JICA-RI's research team, made a commentary presentation. Based on his recent review of inclusive education, Professor Kuroda proposed some tentative ideas regarding indicators for the domain on equity.
| | |
| --- | --- |
| Day | November 25, 2011(Fri) |
| Place | JICA Research Institute |
| Organizer | JICA Research Institute |