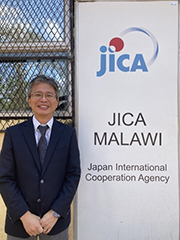 On bank notes of Malawian Kwacha, you can find an icon of tropical fish looking like ancient species. This is a notable cichlid fish in Lake Malawi. Malawi is located at the southwest end of the Rift Valley, which runs across the continent from Ethiopia in the north to Mozambique in the south. People usually tend to have an image that the African continent is almost covered by flat savanna, however, in reality there exists the magnificent geography like the Rift Valley which in Malawi formed Mount Mulanje with 3,000m peak and Lake Malawi with 700m depth. Lake Malawi, being comparable to the Galapagos Islands, has hundreds of fish species. Cichlid fishes, tropical blue fishes which evolved through a long history stemming from plate tectonics, are exported to Japan for aquarium.
On the contrary to the underwater world with a flock of beautiful cichlids, you will encounter the severe reality on the ground. The population of Malawi is 17 million over the area of 118,484km2 (approximately same areas of both Hokkaido and Kyushu Islands of Japan), and the population density is 9 times as high as neighboring country Zambia. More than half of its population is under 18 years old and 80 percent of working population is engaged in rein-fed subsistent agriculture. Agriculture is a main driver producing a third of GDP, however, there is huge room for improvement and development in terms of techniques, quality, productivity, marketing and so forth. Malawi is very prone to climate change and extreme weather like drought and flood. As a result, preparedness to food insecurity is always a critical issue for the nation. Major export product is unprocessed tobacco and alternative cash crops with competitiveness have not been identified after a long search. Since the stop-smoking movement started world over, the tobacco market has inclined to shrink.
The situation in Malawi is so still under development that GNI per capita is 350 US$(2015) and Human Development Index (HDI) remains 170th rank among 188 countries (2016). The national budget 2016/2017 was 1.14 trillion Malawi Kwacha (165 billion Japanese yen or 1.57 billion US$) and on-budget commitments by donors decreased from 40 percent to 25 percent by suspending budget supports due to the cashgate corruption scandal in 2013.
More concern has been raised by rapid population growth. A recent study forecasted that population in 2025 would reach 23 million, and news articles also pointed out that youth population would face more serious problems in education and employment. Even now classrooms in some primary schools accommodate over 100 pupils per classroom and more effort is needed for not only development of facilities but improvement of quality of education. The other point of view has revealed that 10 percent of GDP has been lost as a result of child malnutrition. Against such background we should prioritize human development of next generation as a crucial national development goal.
other urgent issues are water and power supply, which are essential for safe and sound livelihood as well as boosting economic activities, whereas the current situations in both urban and rural areas are far from 24/7 supply. A Further challenging future will be ahead, when we consider that water demand in 2035 will be 2.5 times more and power demand in 2020 will be doubled.
The fortunate thing is that Malawi has never seen any conflicts since its dependence and enjoyed the peaceful and politically stable history, from which the word "Warm heart of Africa" is derived. However, to attain sustainable and equally shared growth enriching quality of people's lives in ten or twenty years under increasing pressures from population growth, we are assured that the nation must strongly advance human development and reinforce the resilience. In this context, JICA will place more focuses on human security and inclusive growth with a holistic viewpoint or trans-boundary approach over multiple sectors. We will continue to cooperate with the Government of Malawi and other stakeholders for promoting human development for the future, and building a firm and resilient national framework through basic infrastructure development.
Koichi Kito
Chief Representative
JICA Malawi