Background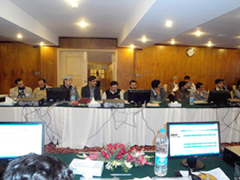 The Government of Pakistan (GoP) developed Health Management Information System (HMIS) in 1992 with the support of USAID, however, after the devolution in 2001, GoP felt need of revamping the centralized information system covering only first-level health facilities.
Based on the request from GoP, JICA implemented the Study on Improvement of Management Information Systems in Health Sector (2004-2007). Through the study, a new health system called DHIS was developed and National Action Plan (NAP) for the nationwide prevalence of DHIS was approved at the Steering Committee.
For the purpose of timely implementation of NAP through the capacity development of NHIRC, GoP asked the Government of Japan for technical cooperation.
Objective
Routine operation and budget planning are practiced in an evidence-based manner, through newly introduced DHIS, at the selected districts.
| | |
| --- | --- |
| Exchange of Notes signed on | April 25, 2009 |
| Term | July 15, 2009 to July 14, 2012 (3 years) |
| Total Amount of Aid | Around 370 Million Yen |
| Project Location | Entire Pakistan |
| Executing Agency | National Health Information Research Center (NHIRC), Ministry of Health (MoH) |
Project Summary
This project aims to achieve the following outputs:
Scale-up Strategy for the DHIS is approved at the Joint Coordinating Committee.
MoH/NHIRC staff is adequately trained on the DHIS operation.
The DHIS data are collected in a complete, precise and timely manner from health facilities to DHOs.
The DHIS data are entered into the DHIS software, processed and analyzed at DHOs and further aggregated and analyzed at PHDs and MoH/NHIRC.
By using the results of analysis of the DHIS data, the items for resource reallocation and budgeting are identified respectively at DHOs and PHDs.
The DHIS is adequately coordinated among the stakeholders.
Project Highlights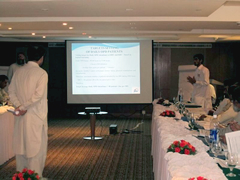 This project mainly consists of the following activities:
Installation and Maintenance of DHIS Software

After revising the DHIS software, which was originally developed by JICA in 2009, it will be installed in the computers in the selected districts. Then, software maintenance works will be done by a local sub-consultant.

DHIS Trainings

The following trainings will be conducted at the expense of Japanese side.

a. Training on Data Collection for all PHDs and some DHOs [=Basic Training on DHIS]
b. Training on Data Entry and Analysis for all PHDs and some DHOs [=DHIS Software Training]
c. Training on Use of Information for all PHDs and some DHOs [=Training on how to utilize DHIS data for resource allocation and budgeting]

Trainings for DHOs will be implemented by Provincial Master Trainers, who will be trained in trainings for PHDs.

Monitoring of Implementation of DHIS

After the above trainings, the project will keep monitoring PHDs and DHOs in order to achieve the goals that DHOs submits the DHIS monthly report to PHDs in a timely manner and the list of identified items for the evidence-based resource reallocation and budgeting is available at PHDs and DHOs.