Background and Objective
Pakistan has lagged behind the other countries in South Asia in terms of maternal and infant mortality, and remains to be one of the polio endemic countries in the world (the others are Afghanistan, India, and Nigeria, as of 2011.). Despite the fact that the global effort toward polio eradication is in the final stage, there is an increasing trend of polio incidence in Pakistan. Under such alarming circumstances, GoP has been demonstrating a strong commitment to eradicate polio since the announcement of "National Emergency Action Plan for Polio Eradication" by President Asif Ali Zardari in January 2011. In order to underpin GoP's such efforts, the Government of Japan (GoJ) and JICA decided to support Supplemental Immunization Activities (Polio Campaigns) in Pakistan through the procurement of Oral Polio Vaccines (OPVs) and service provision for Polio Campaigns. This project's objective is to optimize immunization of OPVs to children under 5 years, by procuring OPVs and providing services necessary for Polio Campaigns, thereby contributing to the eradication of polio in Pakistan.
| | |
| --- | --- |
| Exchange of Notes signed on | August 15, 2011 |
| Term | August 2011 to June 2013 (planned) |
| Total Amount of Aid | 4,993 million Japanese Yen |
| Project Location | Entire Pakistan |
| Executing Agency | Ministry of Inter Provincial Coordination, Government of Pakistan |
| Targeted Population | Children under 5 years |
Project Summary
1. Loan Terms (Concessional loan terms have been applied.)
Interest: 0.01% per annum
Repayment: 40 Years (including 10 years' Grace Period)
2. Loan Component
(1) Procurement of OPVs used for Polio Campaigns
Service Provider: United Nations Children's Fund (UNICEF)
JICA, acting on a request from GoP, disburses funds to UNICEF and UNICEF procures OPVs in turn.
(2) Service Provision for Polio Campaigns
Service Provider: World Health Organization (WHO)
JICA, acting on a request from GoP, disburses funds to WHO and WHO carries out main operations in Polio Campaigns in turn.
The service cost includes per-diem for vaccinators, pre-campaign training, transportation of vaccinators, tally sheets, finger markers, post-campaign monitoring etc. It should be noted that per-diem for vaccinators has been increased as a result of GoJ/JICA's involvement, which could contribute to the improvement of performance vaccinators.
Project Highlights
(1) Collaborative Work with Bill and Melinda Gates Foundation (BMGF) with "Loan Conversion" Mechanism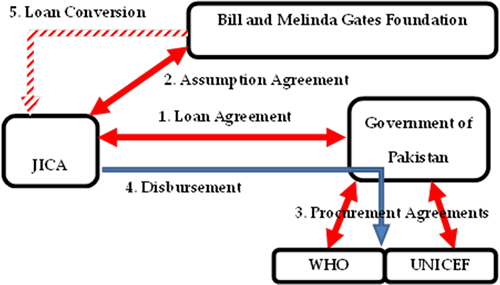 Upon completion of the project, a third party conducts a performance audit to determine if the intended results are achieved. Only in case the audit evaluates the project as satisfactory, "Loan Conversion" will be triggered in accordance with Assumption Agreement between JICA and BMGF, and BMGF will assume GoP's financial obligations and make a repayment to JICA instead of GoP.
(2) GoJ/JICA's strong involvement with polio eradication activities in Pakistan with the use of all the three ODA schemes
GoJ/JICA has committed itself to polio eradication in Pakistan by fully utilizing all the three ODA schemes including the above loan.
Every year since 1996, GoJ has provided grant assistance for GoP for the procurement of OPVs mainly used for mop-up campaigns and case responses in the Pakistan-Afghanistan border areas in partnership with UNICEF.
Besides, JICA has extended its technical cooperation to enhance the capacity of Expanded Program on Immunization (EPI) through "EPI/Polio Control Project" with an objective of expanding routine immunization mainly in Khyber Pakhtunkhwa Province for five years (2006-2011).