Background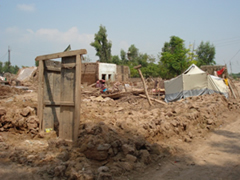 Pakistan is vulnerable to various risks emanating from a number of natural and man-made disasters. The earthquake of October 2005 not only claimed more than 73,000 lives but also caused an estimated loss of US$ 5.2 billion. Moreover, the flood in 2010 and 2011 caused thousands of casualties and displaced people. It is estimated that the risk of the disasters will increase due to climate change.
In the post-earthquake phase, National Disaster Management Authority (NDMA) at the federal level was established acting as a focal point to lead the process by facilitating and coordinating the work of Provincial Disaster Management Authorities (PDMAs) and the District Disaster Management Authorities (DDMAs). The new system envisages achieving sustainable social, economic and environmental development in Pakistan through reducing risks and vulnerabilities.
NDMA was expected to be a coordinator authority for Disaster Risk Management (DRM). However, since Nation-wide policies or guideline for DRM were not available and the capacities of the staff in NDMA were low, NDMA has not met expected demands sufficiently.
As a result of the discussions and consultations, Government of Pakistan requested JICA to cooperate with the task for the development and preparation of a series of necessary legal frameworks and plans for the enhancement of Disaster Risk Reduction (DRR) in Pakistan.
Objective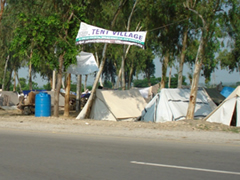 The project aims to develop the four kinds of plans and guideline, i.e. "National Disaster Management Plan" as a national official policy and guideline for comprehensive disaster risk reduction and management in Pakistan, "Multi-hazard Early Warning System Plan" as a guideline and plan in terms of multi-hazard early warning system in Pakistan, "Human Resources Development Plan" as a guideline and plan human resources capacities enhancement, and "Guideline on Community Based Disaster Risk Management" as a guideline to conduct Community Based Disaster Risk Management.
Project Summary
Scope of Work signed on
December 11, 2009
Term
April 2010 to June 2012 (2 years approx.)
Total Amount of Aid
Approximately 333 million Yen
Project Location
Islamabad
Executing Agency
National Disaster Management Authority (NDMA)
Pakistan Meteorological Department (PMD)
Federal Flood Commission (FFC)
Project Highlights
As mention above, documents and guidelines under preparation by the project will be the foundation for the actions and activities for DRR. Hence, these documents entail various aspects such as the area of vulnerability for each disaster or role and responsibilities of each ministry or province department for each disaster phase (preparedness, emergency and post-disaster).