Background and Objective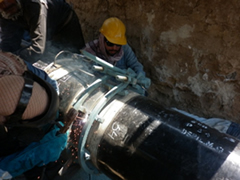 The water supply in Abbottabad area has depended on groundwater as water sources for a long period. In recent year, however, the enhancement of water supply is urgently required because of the rapid development and population increase in the area. The purpose of the project is to mitigate the shortage in water supply capacity, to improve the water services ration and to improve the living environment in Abbottabad city and surrounding area by developing surface water supply system by gravity from a ravine in the east of Abbottabad and augmenting ground water supply.
| | |
| --- | --- |
| Term | September 2010 to December 2014 (4 years approx.) |
| Total Amount of Aid | 3,644 million Yen |
| Project Location | Abbottabad, Khyber Pakhtunkhwa |
| Executing Agency | Public Health Engineering Department, Khyber Pakhtunkhwa |
Project Summary
The project components are as follows;
Surface Water System: Intake(4 nos.), raw water transmission mains (20.5km), Water Treatment Plant(17,300m3/day), Treated water transmission mains(24.3km),Distribution reservoir(6 nos.)
Ground Water System: Tube well and pump (4 nos.), pump replacement (12 nos.), Distribution reservoir(3 nos.), water transmission main(6,2km)
Project Highlights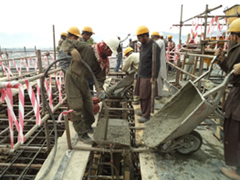 In order to achieve the project objective, this Grant Aid Project consists of both the construction of surface water system and the capacity building for the sound operation and maintenance of facilities/systems in Abbottabad TMA. Under the project, a new surface water supply unit and Water Committee whose members consist of the representatives of District Government, Abbottabad TMA and Nawansher Service Unit will be established for supplying water to the existing three supply agencies and for regulation and advice to activities of the new Unit and coordination with the existing agencies.