Background and Objective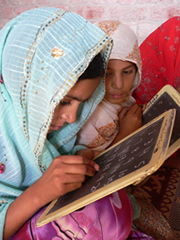 In Pakistan, more than 50 million people aged above 10 years are illiterate while the literacy rate is 58%. Access and quality of education is far behind of satisfactory level. 6.5 million Children are out of school and 40 % of students drop out before they reach grade 5 (primary completion). Pakistan is at serious risk of not attaining Millennium Development Goals (MDGs) and EFA target by 2015.
In many rural areas, there is no single primary school nearby. The gap of literacy rate between urban and rural areas is also considerably huge. (e.g. In Punjab, near capital city has more than 80% literacy rate, while rural district has only 30 plus %). Large majorities of respondents of recent polls are critical of the poor quality of public schools and expect more, especially in terms of large students' strength per class, poor quality facilities and unmotivated teachers.
Under the 18th Amendment to the Constitution of Pakistan 1973, the Concurrent Legislative list has been abolished and consequently subjects enumerated in the Concurrent List have been transferred to the Provincial governments. In this context, the roles and responsibilities of Literacy and Non Formal Basic Education Department (LNFBED), Government of Punjab were expected to expand their mandate with additional new functions such as development of 1.curriculum, 2.syllabus, 3.planning, 4.policy, 5.centers of excellence and 6.standards of education. Taking this opportunity, LNFBED had revised its Rules of Business in order to harmonize with the current situation and needs of literacy and Non-formal Education.
The task of LNFBED is a big challenge in terms of huge number of illiterate population in Punjab and its diversified demands such as mainstreaming of children into formal system and adult literacy with income generating skills, etc. Non-Formal Education (NFE) in Punjab suffers from quality issues, as there are no standards of NFE in place. In order to improve the access and quality of NFE in Punjab through strengthening NFE delivery system, LNFBED and JICA have started the Non-Formal Education Promotion Project (NFEPP) in July 2011.
| | |
| --- | --- |
| Term | July 2011 to  June 2014 (3 years) |
| Total Amount of Aid | 182 million Yen |
| Project Location | Lahore, Punjab |
| Executing Agency | Literacy and Non-Formal Basic Education Department, Punjab |
Project Summary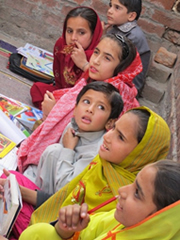 JICA-NFEPP will contribute in setting up minimum standards, curriculum development for Non-formal Basic Education and Adult Literacy, capacity building of LNFBED staff, establishment of assessment methods and tools, and equivalency mechanism with other educational/vocational institutions such as formal school and Training Education and Vocational Training Authority (TEVTA). The outline of the project can be summarized as follows;
Overall Goal
Access and quality of Non Formal Education (NFE) are improved in Punjab.
Project Purpose
System for Quality Non Formal Education delivery is strengthened in Punjab.
Outputs


3.1 Standards, curricula and assessment methods/tools for Non Formal Basic Education (NFBE) are developed.
3.2 Standards, curricula and assessment methods/tools for Adult Literacy are developed.
3.3 Provincial officers, District officers (Executive District Officers, District Literacy Officers, Literacy Mobilizers, etc.) in Punjab Province and teachers in pilot projects are trained for newly developed outputs above.
Project Highlights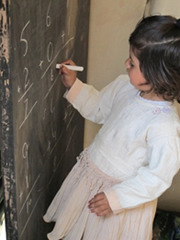 To develop the standards, curricula and assessment methods, JICA-NFEPP is reviewing the activities and materials that have been practiced by various service providers. Simultaneously, JICA-NFEPP is conducting a field survey to learn and analyze the current situation on the ground. Based on the strategy and approaches explored by the findings from the survey, JICA-NFEPP will implement the project jointly with the stakeholders concerned.