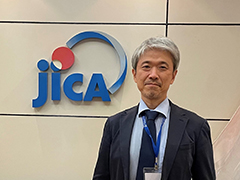 My name is NISHIMURA Takashi and I am the Chief Representative of the JICA Office in Peru.
Thank you very much for visiting our website.
JICA is an executing agency of the Japanese ODA (Official Development Assistance) that supports developing countries, under its mission of "JICA, in accordance with the Development Cooperation Charter, will work on human security and quality growth" and vision of "Leading the world with trust".
In Peru, JICA has been carrying out various types of cooperation over 60 years: Technical Cooperation, Finance and Investment Cooperation, Grant, Dispatch of Japan Overseas Cooperation Volunteers (JOCV), among others modalities of cooperation; having as a starting point, the sending of the first Peruvian scholar to Japan in 1958.
Regarding Japan's support for Peru, the Japanese government established in its guidelines for development assistance to Peru (September 2017), the following basic cooperation guidelines: "contribution to sustainable economic development" and determines the three priority areas of cooperation: 1) Improvement of socioeconomic infrastructures and the tackle with disparities, 2) Environmental measures and 3) Natural disasters prevention and mitigation . JICA continues to develop various activities in Peru under the vision of "Leading the world with trust" and based on the guidelines of the Japanese government.
Finally, our goal is to further strengthen bilateral relations with Peru, a country with great cultural diversity and biodiversity and with great possibilities for development. In addition, working together with our important partners in Japan such as Japanese people, the local and Japanese government, private companies, NGOs, universities, the large Nikkei community in Peru as well as other donors. We, all staffs of the JICA Peru office, will contribute to the socioeconomic development of Peru.
NISHIMURA Takashi
Chief Representative
JICA Peru Office