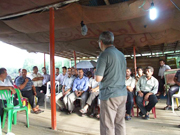 Workshop with local community
The socio-economic survey has been carried out to develop the Output 3 that is zoning plan of the Anzali Wetland and its surroundings. Target groups of the survey are local community who live around the zoning area and stakeholders, such as tourism companies, hotel union, councils from surrounding areas and DOE staffs. Kick-off workshop of the socio-economic survey was held in DOE on 2nd June, 2011. Questionnaire survey, interview survey and workshop have been conducted. At the workshop held in a local community allocated in the Anzali Wetland, people had heated discussion on the issue of current condition, problem and future vision.
The socio-economic survey will finish in October, 2011.