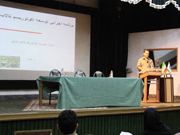 Kick off Ecotourism Workshop
The 4th Ecotourism workshop was held on 26th June, 2011 at Guilan DOE Amphitheatre with the participation of the stakeholders of the Anzali wetland, such as representatives from districts, villages, councils, DOEs, Guilan Hotel unions in Anzali and Somesara, other stakeholders and JET. The purpose was to explain basic concepts concerning ecotourism in the Anzali Wetland, the Draft Action Plan and exchange opinions.
The DOE project team and the project team also conducted the supplementary survey in August 2011 to identify the latest conditions of tourism market around the Anzali Wetland.