The project aims to strengthen the functions of the DDA towards more self-reliable organization, and achieve capacity development, which will be able to establish a consistent water supply system from construction, rehabilitation and operation and maintenance.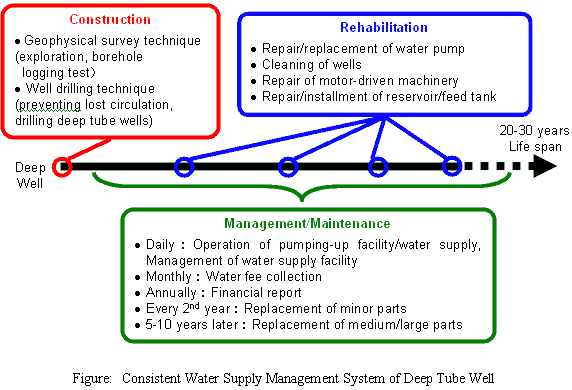 Residents of the Central Dry Zone and the DDA are currently facing many issues and challenges in terms of organizational, technical, and equipment and material capacity to increase access to safe drinking water in the area.
In order to overcome the current situation, it is necessary to reinforce the regional functions of the DDA, and establish a consistent water supply system, which includes not only construction of new wells, but also operation and maintenance (i.e. rehabilitation of wells as a hard component; operation and maintenance system in community as a soft component). In due course in the Project, if the close cooperative relationship at a community level is established, it is assumed that the organizational roles of the DDA shall be further clarified as well as an improvement in the individual technical capacity of the DDA staff. In other words, the Project provides an opportunity to achieve capacity development, such as the functional reinforcement of administrative organizations and empowerment of villagers.
A conceptual diagram of the consistent water supply system is drawn in the Figure above. The JICA Expert Team provides technical support on capacity development for not only the DDA but also the water management committees and villagers, enabling them to take each one's share of responsibility in the water supply system.