In June 2007, Forest Department (FD), with Department of Fisheries (DoF), Myanma Agricultural Services (MAS), and Settlement and Land Record Department (SLRD) as cooperating agencies, and JICA started the joint implementation of the Project activities with the approval of 1st Joint Coordination Committee (JCC) meeting.
After then, in May 2008, Cyclone Nargis struck Myanmar and caused great damage to the Project area, and PDM (Project Design Matrix) was modified as PDM1 being added various recovery activities.
Through the Mid-term review conducted in the beginning of 2011, contents of the four Outputs and detail activities of the Project were reviewed. As the result, the aforementioned various recovery activities were consolidated as the fifth Output in addition to the existing four Outputs. Including this modification, the PDM1 was modified as PDM2 according to results of the Mid-term review, and the framework of the Project was restructured. These modifications were approved at the 5th JCC meeting held in July 2011. Summary of the framework is illustrated as below.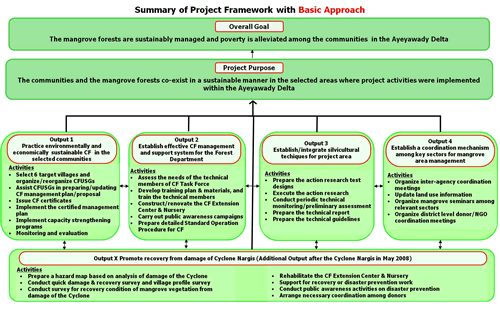 * CF: Community Forestry, CFUSG: Community Forestry User Group
The organization structure for the Project implementation was approved at the 1st JCC meeting in June 2007. The implementation structure as of July 2011 has not changed significantly from June 2007 and is illustrated as below.