3-7. Regional Asia Pacific Disability Equality Training (DET) Training of Senior Trainers (TOST) andTraining of Trainers (TOT)
The 1st Regional Disability Equality Training (DET) Training of Senior Trainers (TOST) was held from November 1 to 12, 2010 and the 2nd Regional DET Training of Trainers (TOT) which was held from November 2 to 11, 2010. These TOST and TOT courses were organized as a part of the Project to Support Participation of Disabled Persons (Note: In DET Disabled Persons instead of Persons with Disabilities has the preference). A project has been jointly implemented by the Japan International Cooperation Agency (JICA) Malaysia and the Department or Social Welfare Malaysia (DSW) from September 2009 to August 2012.
Training Venue: Institute of Training, National Council of Welfare & Social Development, Kuala Lumpur, Malaysia
Main Resource Person: Dr. Kenji Kuno, PhD. Senior Advisor on Social Security (Disability), JICA.
JICA and the DSW aim to support social participation, inclusion and empowerment of all disabled persons through the effective implementation of various policies and services in this project. It is one of the core components of this project to realize disability equality by promoting DET and to train DET trainers in this region. Asia Pacific Africa & Latin America (APALA) DET Forum also contributed to the development of the contents of this training course. APALA DET Forum promotes networking and information sharing among DET trainers to promote disability equality in the world.
URL of DET Forum: http://detforum.com/
1. 2nd Regional Asia Pacific DET TOT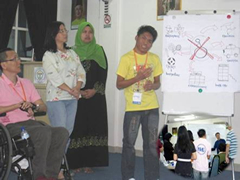 Mr. Antony Bangeles (right) and two (2) DET TOT participants in Malaysia together with their co-facilitator during their group presentation
The participants of the DET TOT were comprised of persons with different impairments including persons with physical impairments, hearing impairments, and psychosocial impairments. The participants came from different countries including India, Nepal, Malaysia, Thailand, and the Philippines.
As part of the Non-Handicapping Environment (NHE) Project under the capacity development of disabled persons in the rural areas of the Philippines, the national project management team had nominated two disabled (2) leaders to attend the 2nd Regional Asia Pacific DET TOT in Kuala Lumpur, Malaysia. They were Mr. Antony Bangeles of New, Lucena, Iloilo and Ms. Chona Sabo of Opol, Misamis Oriental, who are potential leaders of the two (2) pioneering sites.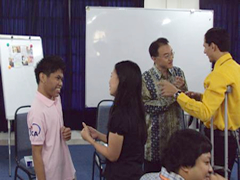 Mr. Antony Bangeles (left) and Ms. Chona Sabo (second left) were sharing comments regarding their participation to the DET TOT.
These two potential leaders are expected to become effective DET trainers and to share knowledge learned from this intensive training to empower their fellow disabled persons in their respective municipalities, model sites of the NHE Project.
Objectives of the Course:
This course aimed to train participants to be effective DET trainers by gaining: comprehensive understanding of the social model of disability as its contents, and facilitated participatory learning approach as its approach.
Participants were expected to implement DET to disseminate the social model of disability to the public, and to empower other disabled persons in respective countries. Participants were also expected to be members of DET Forum, which is the network of DET trainers.
2. 1st Regional Asia Pacific DET TOST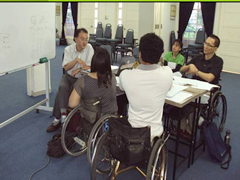 Final session for the participants of DET TOST together with Dr. Kenji Kuno (left) during their finalization of the 5th DET Manual
Objective of the Course:
This course aimed to train senior DET trainers whose role is to train other disabled persons to be DET trainers.
Participants learned the social model of disability more comprehensively and be skilled with facilitated participatory learning approach as a training approach in DET TOT. Participants were expected to conduct DET TOT in their respective countries and in this region in collaboration with other senior DET trainers through the DET Forum.
Training Summary:
There were four (4) participants with physical impairment (wheelchair users) from different countries including one (1) from Malaysia, two (2) from Thailand and one (1) from the Philippines (Ms. Eunice Factor, Senior Project Assistant of the NHE Project), and for DET TOST. They were trained to become effective facilitators of DET TOT.
In the first two (2) days of the training, participants had introductory sessions. The sessions were consisting of a series of lectures and workshops to help revise and level up participants understanding of social model of disability. Participants had shared their past experiences in conducting DET Seminars and discussed lessons they had learned from their experiences.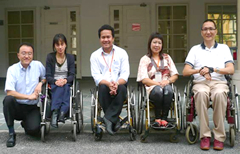 Four (4) Participants of DET TOST including Ms. Eunice Factor (second left) and the resource person, Dr. Kenji Kuno (left)
DET TOST participants acted as co-facilitators during the group activity and discussion where they took the responsibility to facilitate the discovery process of the DET TOT participants by giving challenging questions that will make the participants of DET TOT think deeper and find answers by themselves.
At the same time, the participants of TOST had analyzed how the main facilitator conducted every session from two perspectives, i.e. contents and methods. We also had analyzed critically, and developed constructive alternatives for our own future training courses.
For Senior DET Trainers, it's like an On-the-Job-Training (OJT) where their ability to facilitate was put to test. The training became a venue to enhance their facilitation skills in an actual setting. The participants were expected to develop their skill in critical thinking and analyzing other person's ability to think, present and facilitate.