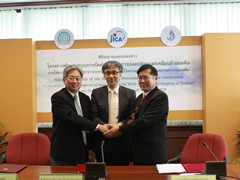 R/D Signing Ceremony at PCD on July 8, 2010
The Japan International Cooperation Agency (JICA), the Pollution Control Department (PCD) and the Department of Industrial Works (DIW) signed the Record of Discussions (R/D) on the Japanese Technical Cooperation for the Development of Basic Schemes for PRTR System in the Kingdom of Thailand. The signing ceremony was held on July 8, 2011 at the PCD Building, Bangkok, presided over by Dr. Supat Wangwongwattana, Director-General of PCD, Mr. Yasunori Onishi, Chief Representative of JICA Thailand Office, and Mr. Urith Srinongkrote, Deputy Director-General of DIW. Distinguished guests from the Embassy of Japan and the Industrial Estate Authority of Thailand (IEAT) also witnessed the signing ceremony.
Under the Project, JICA will assist the Thai government counterparts to establish a basic design of the PRTR system in Thailand as well as other necessary capacity building activities. Although major project activities will be implemented in Bangkok, Rayong Province is selected as a pilot area. The project duration is four (4) years, from the first date of Japanese Experts' arrival in Thailand.