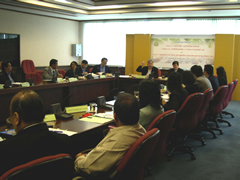 JCC meeting at PCD on March 25, 2011
After finalizing the Record of Discussion (R/D) in July 2010, the JICA PRTR Project officially started in March 2011, upon the arrival of Mr. Munehiro FUKUDA, Team Leader of the JICA Expert Team, in Bangkok. A series of meetings was held with various agencies and organization to set up the framework of the project.
The first Joint Coordination Committee (JCC) meeting was held in March 25, 2011. Dr. Supat Wangwongwattana, Director-General of the Pollution Control Department (PCD) chaired the meeting, with participation from the Department of Industrial Works (DIW), the Industrial Estate Authority of Thailand (IEAT) and other relevant agencies. The meeting concluded role demarcation of the project, assignment of the Deputy Governor of IEAT as co-project manager, and basic strategies proposed in the inception report. Basic strategies include: 1) involvement of the stakeholders from the design stage; 2) step-by-step approach; and 3) promoting dialogue and development of risk communication.