Since the kick-off in March 2011, the JICA PRTR Project has received positive response and cooperation from various stakeholders, including government organizations, the private sector and a number of non-governmental organizations (NGOs) who express their strong interest in the project.
The first meeting with NGOs was organized on June 15, 2011 at the Pollution Control Department (PCD), chaired by the Project Manager - Mrs. Sunee Piyapanpong, Deputy Director-General of PCD. Representatives from environmental NGOs such as Greenpeace and Ecological Alert and Recovery Thailand (EARTH), as well as government representatives from PCD, the Department of Industrial Works (DIW) and the Environmental Research and Training Center (ERTC) actively participated the meeting. Many topics were discussed extensively during the meeting, especially the role and importance of the involvement of NGOs in the project. The project principle and work plan of the JICA Expert Team were mutually agreed.
As "the involvement of all stakeholders from the design stage" is one of the basic strategies for the project, such meeting with NGOs will be held regularly to create common understanding and exchange ideas on the project, throughout the process of developing the PRTR system.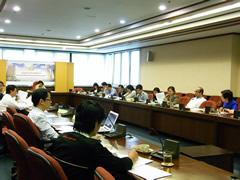 Several environmental NGOs actively participated in the meeting at PCD on June 15, 2011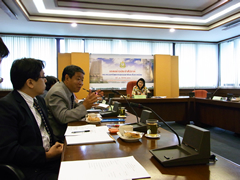 Mr. Munehiro Fukuda, Team Leader, explained the project outline and approach to NGOs