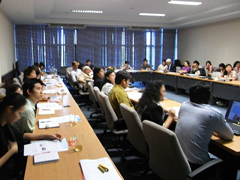 Participants from various related organizations actively discussed and shared their experience on risk communication, at the workshop held at the Department of Environmental Quality Promotion (DEQP) on October 6th, 2011.
Before implementing the training course in January 2012, the JICA Expert Team, in cooperation with the Environmental Research and Training Center (ERTC) organized a workshop on the Risk Communication Training Course chaired by the Director of ERTC Ms. Suwanna Tiansuwan, on October 6th, 2011. Around 40 participants from several related organizations – the government sector, the private sector, universities, NGOs – actively participated in the workshop. The draft of the Risk Communication Training Course, proposed by the task force, was extensively discussed in various aspects, such as target participants, requirements for the target group, contents of the course curriculum, and so on. The workshop was successfully held, yielding many useful comments and suggestions to further improve the training course.
In the afternoon of the same day, the 2nd meeting of the task force for developing the risk communication training course was held right after the workshop. All comments and topics raised during the morning session were summarized and discussed to find conclusions for each detail of the training course. Demarcation of responsibility for curriculum topics, including text preparation, was also settled. The work plan proposed by the JICA Expert was generally approved.
With all these efforts combined, the first risk communication training course is expected to be held in late January, 2012.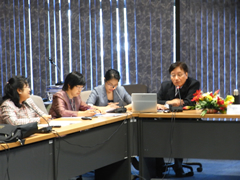 JICA Expert, far right, responded to the question from the floor.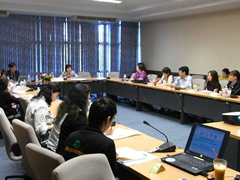 Task force members discussed on the summary of the workshop in the 2nd task force meeting held in the afternoon of October 6th, 2011. The director of ERTC Ms. Suwanna Tiansuwan continuously led the meeting.