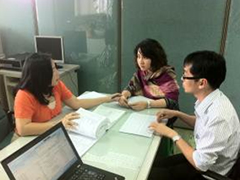 PCD officer (far right) discussed with officers of the Customs Department about import/export data of chemicals.
After being paralyzed by Thailand worst flood last year, the 2012 came along with the parts of the JICA-PRTR Project ready to move on and many more activities waiting ahead. Let's start the first issue of 2012 with news coverage on the activity of the JICA Expert at the Customs Department.
PCD officer, Mr. Aram Bhandhuwanna, and JICA expert, Mr. Munehiro Fukuda, visited the Customs Department on January 12th, 2012. The meeting was attended by Ms. Suphannika Chanlaor, technical officer of the Information Processing and Data Warehouse Division, and Ms. Thitima Apisapsakul, technical officer of the Customs Tariff Bureau.
The role of the Customs Department for proper management of the chemical substance is very important as customs is the entry point of many imported chemical substances. Topics discussed were 1) clarification of imported volume of some chemical substances under hazardous substance code 4 (prohibited substance), 2) HS code and CAS number matching, and 3) control of mixture product.
Based on the information provided by the Customs Department, the list of target chemical substances for PRTR will be reviewed and revised. The Customs Department kindly agreed to give its continued cooperation for the PRTR Project.