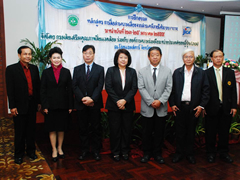 DDG of DEQP Mrs. Rachanee Emaruchi, JICA Experts, and honorable guests took picture together after the opening ceremony
The Department of Environmental Quality Promotion (DEQP), in cooperation with the Japan International Cooperation Agency (JICA), organized the training on Chemical Risk Communication under PRTR Project during January 23th-25th, 2012, at the Star Hotel, Rayong province.
On January 23th, 2012, Ms. Rachanee Emaruchi, Deputy Director General of DEQP, Mr. Somchai Vinitnatarat, Director of Institute of Environmental Training and Technology Transfer (IET), together with Mr. Munehiro Fukuda and Mr. Kazuhiko Tezuka, the JICA Experts, attended the opening ceremony of the training.
Ms. Rachanee and Mr. Fukuda greeted the participants and briefly introduced the JICA-PRTR Project and details of the course. In total, there were 51 participants who are representatives from various related organizations and sectors, including central and local government, academic sector, industrial sector, and NGOs/community.
The purpose of the training was for the participants to build up communication skills in an easy-to-understand way, to correctly interpret PRTR data, and to enhance the knowledge on chemical substances and toxicity. Lecturers from many organizations were invited, namely the Pollution Control Department, the Department of Industrial Works, the Rayong Occupational Health and Environmental Development Center, the Department of Disease Control, Mahidol University, Thammasat University, Ramkhamhaeng University, Siam University, and Huachiew Chalermprakiet University. The lecturers gave presentations on topics of their specialization, and actively responded to the questions from the participants.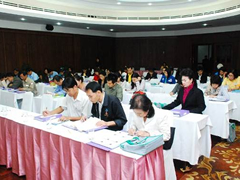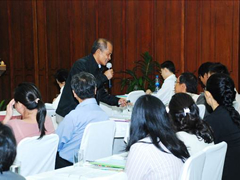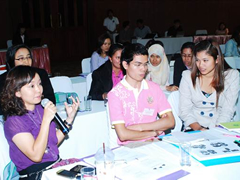 JICA PRTR
Chemical Risk Communication Training under PRTR Project
January 23th -25th, 2012, Star Hotel, Rayong