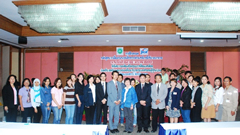 Mr. Kawabata, Ms. Suwanna, JICA Experts, and all participants took picture together after the closing ceremony on January 25th, 2012, at the Star Hotel, Rayong province.
On January 25th, 2012, the last day of the training, Ms. Suwanna Tiansuwan, Director of The Environmental Research and Training Center (ERTC), together with Mr. Tomoyuki Kawabata, Senior Representative of the Japan International Cooperation Agency (JICA), co-chaired the closing ceremony of the Chemical Risk Communication Training under JICA-PRTR Project.
Ms. Suwanna, as well as Mr. Kawabata, expressed their appreciation to the lecturers, every participant, and every staff for their great contributions towards the training course. They emphasized the importance of the role of communicator to continue information sharing and opinion exchange, and to maintain the network created during the training. Each participant was given a certificate of training at the end of the closing ceremony.