Two task forces for developing release estimation manual – the refinery group and the chemical/petrochemical group – are making progress as many moves were taken during January 2012.
In the morning of January 30th, 2012, representatives from refinery companies – the task force members – actively participated in the 2nd task force meeting on developing of release estimation manual for refinery industry, chaired by the new director of Water Technology and Industrial Pollution Management Bureau Mr. Mongkol Pruekwatana. Discussion topics included the target chemicals selection, examples of release estimation technique for refinery industry, and details on data collection which will be used for developing the manual. Task force members promised cooperation in providing the data as requested by the JICA Expert.
According to the work plan, the 3rd task force meeting is the last gathering for the manual preparation.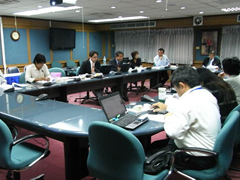 JICA Expert and task force members extensively discussed on topics in the 2nd task force meeting, chaired by Director Mongkol Preukwatana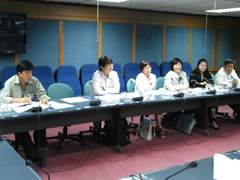 Representatives from various refinery companies took part in the development of release estimation manual