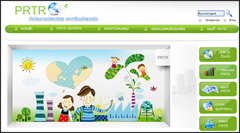 The homepage of Thai PRTR website (prototype) decorated with user-friendly graphic and characters
On February 24th, 2012, the website development company "Geomatics" made a presentation on the prototype of PRTR website and database at the Pollution Control Department (PCD) with a JICA Expert and project counterparts from IT division as participants and commentators.
As a tool for data disclosure, the website will be designed to integrate all databases and to display the emission data graphically via various queries. The PRTR data will be simplified to be easy to understand for the people in general.
The Thai PRTR website will also be developed to function as an information center, providing details of the Thai PRTR system, including target substances, chemical risks, regulations, and other related issues.
The development of website and database for the Thai PRTR system has started since September 2011 in order to have the system ready for a trial in the upcoming pilot project (2013) in Rayong province.