The last gathering of counterpart members in the project's first year was held on February 27th, 2012, at the Pollution Control Department (PCD), co-chaired by Ms. Sunee Piyapanpong, Deputy Director General of PCD, and Mr. Mongkol Pruekwattana, Director of Water Technology and Industrial Pollution Management Bureau, Department of Industrial Works (DIW). Mr. Tomoyuki Kawabata, Senior Representative of the Japan International Cooperation Agency (JICA) Thailand Office, also participated in the meeting.
Many issues on the elements of PRTR were intensively discussed to find the best answers for Thailand. The main discussion topics included the revisions of the target substances list, definition of point source and non-point source, and overall basic elements of Thai PRTR system design. The draft model of PRTR website and database was also presented to the floor and its features of PRTR data displaying demonstrated. Moreover, the progress of the JICA-PRTR Project during October 2011 to February 2012 was reported and mutually approved by counterpart members.
Progress of the project and details in each output will be published in the Progress Report No. 2.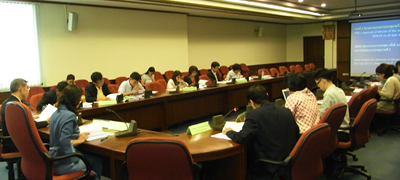 JICA Expert and the project counterparts actively discussed in the 4th JICA-PRTR Project Counterpart Meeting at PCD