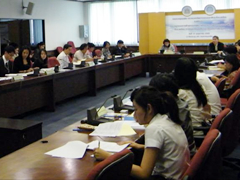 The JCC meeting held on May 22nd, 2012, at PCD with a full-house of participants from various related agencies.
The meeting of the Joint Coordinating Committee for the Development of Basic Schemes for PRTR system in the Kingdom of Thailand, referred as the "JCC Meeting", was organized on May 22nd, 2012 at the Pollution Control Department, and co-chaired by Ms. Sunee Piyapanpong, Deputy Director of PCD, and Mr. Mongkol Pruekwatana, Director of the Water Technology and Industrial Pollution Management Bureau, Department of Industrial Works.
Members of JCC, both Thai and Japanese project counterparts, gather annually to discuss major issues and to review overall progress. Besides the three main organizations of PCD, DIW and IEAT, members of the Thai side are the Department of Highways, the Office of Transport and Traffic Policy and Planning, the Department of Agriculture, the Department of Local Administration, and the Thai International Cooperation and Development Agency (TICA). From the Japanese side, the JICA Expert Team and the Japan International Cooperation Agency (JICA) are included.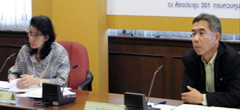 Ms. Sunee Piyapanpong, DDG of PCD and Mr. Mongkol Pruekwatana, Director of the Water Technology and Industrial Pollution Bureau, DIW, co-chaired the JCC meeting representing the DGs of both organizations.
In the 2012 JCC Meeting, representatives from the member organizations actively participated in the meeting, and a representative from the Embassy of Japan in Thailand also attended as an observer. Marking the start of the JICA-PRTR Project's second year, detailed progress of the project's first year from March 2011 to March 2012, and plans for the upcoming year, were reported to the members. Overall, the project proceeded as planned despite some obstacles during the 2011 flooding disaster of Thailand. Other meeting topics were 1) the establishment of a task force for non-point source release estimation and 2) the revision of the Project Design Matrix. These were extensively discussed, yielding constructive comments and suggestions.