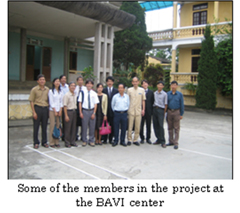 The "Project for Improvement of Productive Technology in Small and Medium Scale Dairy Farms in Vietnam" (herein after referred to as "the Project") is sponsored by Japanese Government through the Japan International Cooperation Agency (JICA). The counterpart organization of the Project is Ministry of Agriculture and Rural Development (MARD) and the implementation agency is National Institute of Animal Husbandry (NIAH).
The Project's activity mainly focuses on providing training courses on dairy techniques for our selected Vietnamese counterparts (National Trainers) and local technicians (Local Trainers) from our target areas. We also do care about dairy farmers through direct trainings such as Farmer Seminars, technical demonstration activities or on-site follow up trainings for Local Trainers.
To ensure the effectiveness of training and extension activities, the Project set up 10 model farms in Vinh Tuong district, Vinh Phuc province, 10 model farms in Moc Chau district, Son La province as our target areas and 3 demonstration farms in Ba Vi area. In addition, we choose Thanh Hoa and Hung Yen as our cooperation areas. While NT and LT trainings are normally held at Station for Training and Extension on Dairy Techniques (STED) - Ba Vi Forage and Cattle Research Center, extension and practical activities are often organized in target areas.
With the hope to spread knowledge on dairy techniques to everywhere, the Project built up this website to help you get easier access to downloadable sources of technical information, which are taken from the Project's manuals and textbooks since the beginning of its training activities.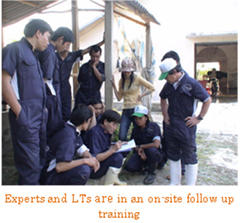 So far, the Project has been conducting many activities and programs with an aim to reach its goals. In the initial years of the Project namely 2006-2007, we focused on organizing training courses in different topics and subjects (Veterinary Medicine, Feeding and Management, Milk Hygiene and Mastitis Control, Teaching Method and Management, etc.), in order to train full-time counterparts(C/Ps), who are expected to become National Trainers(NTs). Japanese long-term and short-term experts of different fields are assigned to provide lectures and practices to NTs. These NTs are expected to become well-recognized specialists on dairy farming technology as well as management. Till now, most of the NTs have been sent to Japan to attend short training courses on dairy farming technologies. As a result, NTs have got much improvement in technical knowledge as well as fostered a further strong willingness to improve dairy farming situations in their home country. So, they are now more confident in giving lectures to local technicians by themselves.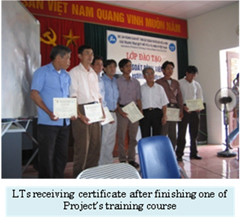 Together with the training courses for NTs, the Project have also conducted training courses for grassroots level, namely local technicians, who are working as extensionists, veterinarians and so on, in the provinces where dairy farming is actively operated. On purpose, we use the term "Local Trainer (LT)" for those local technicians in the Project target areas, hoping them to be able to play a trainer-like role for the dairy farmers in their locality.
The Project's training courses for both NTs and LTs are normally held at STED, Ba Vi center. While training course for NT can be held rather flexibly as Japanese experts and CPs (NTs) work together at the Project office, the training courses for LTs are often held for the period of one week including theory practices.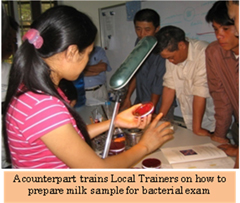 Since latter quarters of 2007 till now (Feb.2009), the Project has conducted several farmer seminars and technical demonstration activities on various topics related to dairy farming and management, for dairy farmers in target and cooperative areas. Through the seminars and demonstrations, the Project has really hoped to create an exciting opportunities for dairy farmers to gain knowledge, to exchange ideas and experiences. And also occasions like seminars could provide good chances for NTs and LTs to deepen their knowledge and improve presentation skills.
In addition to above training courses and farmer seminars, the Project has also published a number of technical materials such as textbooks, leaflets, brochures and Artificial Insemination Calendars and provided various technical tools and devices for the training participants such as specialized drugs, hoof trimming tools, AI tools, chopping machine, working clothes, rubber shoes, and so on. Most recently, products like Farm Recording Book, technical manuals on Reproduction and Veterinary and cow measuring tape have been produced to continue the Project activities for the rest of the Project duration. Some of these technical materials are prepared as PDF forms and are downloadable from this website.
Lastly, the Project strongly hopes that this website can be one of reliable technical information sources for anyone who interested in dairy farming, and any of your ideas, suggestions or information are always highly welcomed and appreciated!