I joined JICA in 2002 and the first assignment was in then JICA Hyogo International Center in Kobe-city, one of JICA's domestic institutions in Japan. Thereafter I moved to headquarters in Tokyo, where I was consecutively in charge of natural resources conservation, fishery facilities development and agriculture sector development. After that, I was transferred to Tanzania Office where I was in charge of the infrastructure sector for four years (2009-2013). That is where a direct relationship with Rwanda began as I was in charge of the Project for Rusumo Bridge and One Stop Border Post (OSBP) (between the two countries). By the time I completed my tenure in Tanzania, Africa had almost become my home. In February 2019, I have been assigned as Chief Representative of JICA Rwanda Office. Now, I have returned to Africa as like the Rwandan proverb says, "Once a place becomes home, it is always home."
JICA Rwanda Office reopened in 2005. Through reviewing our activities since the resumption of the office, I realize that Rwanda has been developed remarkably, especially in economic development and poverty reduction under the national policy "Vision 2020" and the two strategies "EDPRS" 1 and 2, with thanking high commitment of all the people of Rwanda.
Vision 2020 is ending at the close of the decade while EDPRS2 and its associated Sector Strategic Plans and District Development Strategies ended in June 2018. The implementation instrument for the remainder of Vision 2020 and for the first four years of Vision 2050 is the National Strategy for Transformation (NST1). NST1 provides the foundation and vehicle towards Vision 2050.
It is a great pleasure for JICA Rwanda to have taken a part in this development process and have supported the Rwandan people's high commitment.
I believe the role of JICA is catalyst to support Rwandan people to develop themselves with their own initiative with dignity and self- reliance. The Japanese experience and style developed in many years are certainly usable for this exercise. I do hope JICA can be a trusted partner of Rwandan people to walk alongside toward the way for future prosperity.
Murakoze cyane (Thank you very much).
MARUO Shin
Chief Representative, JICA Rwanda Office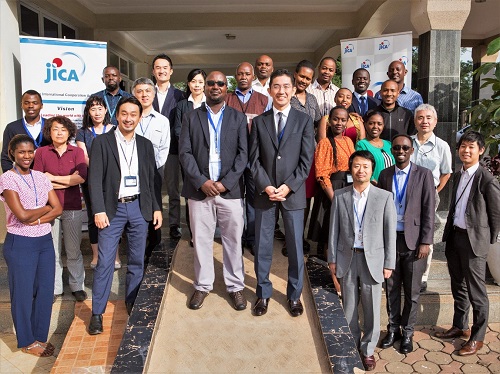 MARUO Shin, JICA Rwanda Office Chief Representative (4th from right) together with JICA Rwanda Staff members.