On August 8, 2019, JICA signed a Record of Discussions (R/D) for a new Technical Cooperation Project titled "Youth Empowerment through Sports for Peace Promotion (YES for Peace)" with the Government of South Sudan.
In December 2013, a civil war erupted in South Sudan due to disagreement between the South Sudan President Salva Kiir Mayardit and his then Vice President Riek Machar over power struggles in the office. The war ended with Riek Machar fleeing the country for protection in other neighboring countries, after which they reached an agreement to form a Transitional Government of National Unity. The Government did not last a whole year and South Sudan witnessed yet another terrible civil conflict in July 2016, which led to loss of thousands of lives and turned south Sudanese against each other based on tribal lines. In an effort to ensure total peace in South Sudan, the two warring parties signed a Revitalized Peace Agreement in September 2018 whose terms included the formation of another Transitional Government of National Unity in May 2019, which has not been effected to date.
In the quest to create a platform for peace and social cohesion in South Sudan, JICA has supported a National Unity Day (NUD) sports event on yearly basis for the past 4 years. The event brings together multitudes of South Sudanese youths from all the states in the country to interact and enjoy a common activity.
Following the previous supports to the Government of South Sudan, JICA plans to improve the sports for peace project by including schools and communities in the sports for peace program. The New Technical Corporation project will promote inter-states sports, training of referees and coaches, peace workshops and others.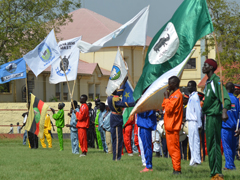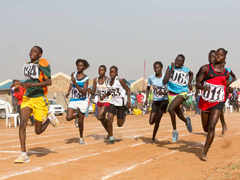 [Basic project information]
Country
Republic of South Sudan
Project title
Project for Youth Empowerment through Sports for Peace Promotion (YES for Peace)
Planned implementation period
November 2019~October 2023
Executing agency
Ministry of Culture, Youth and Sports and Ministry of General Education and Instruction
Target region
Juba and pilot states
Specific project details (provisional)
Establishment of school-based committees, which enhance community level Sports for Peace promotion and youth empowerment in Juba and pilot states; Capacity development of Executing agencies in terms of policy making, activity planning, financial management, project management; School-based community activities for peace promotion through sports; and Establishment of coordination mechanism with other agencies on Sports for Peace