At the Fifth Tokyo International Conference on African Development (TICAD V), held in Japan in 2013, Prime Minister Shinzo Abe articulated the need to move away from agriculture that merely enables farmers to eat ("subsistence farming"), to agriculture that enables farmers to earn an income ("commercial farming"). In the same year, the Embassy of South Africa in Japan started a conversation on the Smallholder Horticulture Empowerment and Promotion (SHEP) approach, which resulted in talks between South Africa's Department of Agriculture, Forestry and Fisheries (DAFF) and the South African branch of the Japan International Cooperation Agency (JICA). DAFF and JICA share the vision of local agriculture becoming profitable by integrating marketing into agriculture, thereby increasing the probability of becoming globally competitive.
Earlier this year, DAFF and JICA co-hosted an international workshop in Johannesburg as fifth gathering of Africa's agriculture fraternity, with SHEP as agenda. Since 2014, some 20 agriculture officials from Kwazulu-Natal, Limpopo and Mpumalanga have participated in SHEP theoretical and practical trainings in not only Kenya and Malawi, but also Japan. Two Japanese nationals were assigned to South Africa as SHEP advisors; one to DAFF in Pretoria, and the other to the Department of Agriculture and Rural Development (DARD) in Polokwane. Activities were both substantial and significant. For example, the SHEP Limpopo Team, who benefited from these trainings, hosted a workshop for some 90 extension workers in target districts.
SHEP resulted from challenges experienced with conventional farming, such as farmers facing difficulties using technologies and techniques as outcomes of agricultural research, and farmers becoming demotivated to persist and constantly improve their efforts. With SHEP being a simple approach, farmers have seen results within a short time. SHEP inherently focuses on motivating both farmers and extension workers by shifting from the notion of "Grow-and-Sell" to "Grow-to-Sell". SHEP comprises of four steps, applicable to farmers and extension workers alike. These include selection of targets, sensitization and sharing goal / vision, creating awareness of current scenarios through surveys, empowering them to make informed decisions, and capacitating them through exposure to technical solutions.
SHEP has been introduced across Africa, and has succeeded in uplifting farmer's income through supply-and-demand principles. It has managed to increase farmers' revenue by changing their mind-sets, and by encouraging them to consider market information for better prices of their produce.
Kenya was one of the first countries to introduce SHEP. What started off as an exploratory exercise trialed by Kenya and Japan way back in 2006, has now evolved into an economically viable initiative. The cooperation between Kenya and other African countries eases spreading the principles and use of SHEP, with JICA merely making trainings possible through financial support. Studies show that SHEP managed to help Kenyan farmers to double their income within only two years, 2007 to 2009.
Since 2018, JICA has been making SHEP teachings accessible through the "SHEP Handbook for Extension Staff", which guides farmers and extension workers on how to maximize SHEP. The Handbook provides a practical, systematic guide to the implementation of SHEP, with case studies from Lesotho, Malawi, South Africa and Zimbabwe. Currently, 23 countries are implementing SHEP, with 4,630 African officials involved, and about 60,381 farmers reaping the rewards.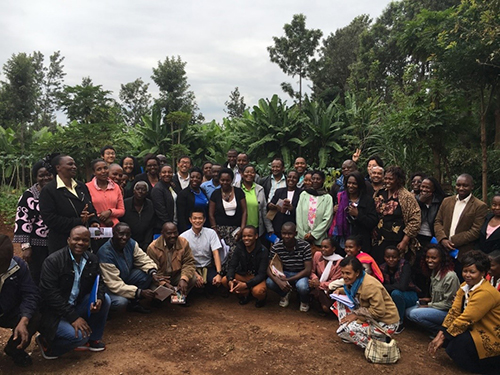 According to Dr Jiro Aikawa, SHEP Advisor, there are no limits to SHEP. The SHEP Team is now pursuing an international complementary approach with teachings for not only crops, but also livestock and fishery.