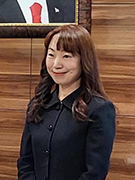 I have been the Chief Representative of JICA Turkey Office since March 2022 and am very much excited to work in Turkey. In the past, I had been working in several sections in operations strategy, financial risk management, and evaluation areas in JICA HQ, and engaged in human security and other fields in the Philippines Office.
As widely known, we have a long history of helping each other between Turkey and Japan. In 1890, when the Ertugrul, a warship of Turkey (Ottoman Empire at that time) sunk near the seashore of Wakayama Prefecture on the way back to Turkey, the villagers of Kushimoto rescued 69 sailors at the risk of their own lives. In 1985, when many Japanese citizens were stranded in Tehran during Iran Iraq war, Turkish government courageously sent airplanes to Tehran and saved 215 Japanese people. Turkish people still remember the past support for the Ertugrul warship given 130 years ago.
In 1999, when Izmit Earthquake occurred in the western part of Turkey, we dispatched rescue and medical teams and provided financial support of 23.6 billion Japanese Yen. On the other hand, during the Great Eastern Japan Earthquake in 2011, an emergency rescue and medical team was sent from Turkey to Japan. This team was one of those who contributed to the rescue activities for the longest period among those foreign rescue teams.
We, JICA, have been working as an implementing agency of Japanese Official Development Assistance (ODA) in collaboration with Turkish people for a long time. Our activities had started in 1959, when the first Turkish trainees visited Japan, and we celebrated the 60th Anniversary of our ODA to Turkey in 2019. During the long history of our cooperation, besides the emergency rescue activities mentioned above, we have provided supports on Yen Loan and Technical Assistance in various sectors, from developing large infrastructure facilities including Marmaray railways and Fatih Sultan Mehmet Bridge (the 2nd Bosphorus Bridge) in Istanbul to Disaster Risk Reduction, Agriculture, Fishery, Energy and so on.
Turkish economy has developed significantly during the period and it became a member of G20. And now, Turkey has been assisting other developing countries as a donor. JICA is currently building a new relationship with the Turkish governmental organizations as partners to support other countries.
In the meantime, JICA looks forward to building strong relationship with Turkey to tackle global issues, as our mission is also to achieve quality and balanced growth, to realize human security, and to contribute to sustainable development.
There are about 200 Japanese companies in Turkey. JICA Turkey Office is willing to cooperate with these Japanese companies and build a Win-Win relationship for both Turkey and Japan.
As of April 2022, the impact of Covid-19 is still ongoing, and this has been seriously affecting economy of the country. "A friend in need is a friend indeed." We, as JICA, will make our best effort to contribute to strengthen our trustful relationship between Turkey and Japan.
TANAKA Yuko
Chief Representative
JICA Turkey Office