Since the beginning of the conflict in Ukraine, Moldova has been providing refugees with various kinds of supports including free medical services to refugees in cooperation with international partners. In this context, JICA has been working to help strengthen the health system in Moldova to reduce the burden on the Moldovan government.
JICA's medical equipment provisions for major medical institutes are proceeding as planned. And as a part of the first emergency provision, the Emergency Medicine Institute (EMA) has received portable ultrasonic diagnostic equipment and two wireless portable ultrasound devices.
During a visit to the EMA, JICA team led by Mr. Sugimoto, Resident Representative of JICA Ukraine Office, made an observation of the donated equipment and talked with doctors and engineers about how they utilize them. The doctors explained the ultrasound machine greatly helps their daily medical services and expressed their gratitude for the donation.
JICA's equipment provisions will continue through a grant aid project officially signed on November 11th, 2022, for further strengthening of the health system of Moldova.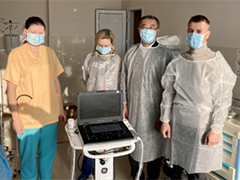 Ultrasound machine in use at neurosurgery and intensive care sections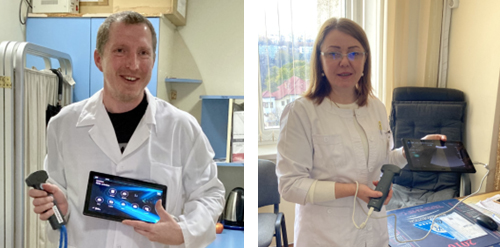 Wireless portable ultrasound devices