Satoshi NAGASHIMA (Expert of Fisheries Extension)
JICA has been implementing "The Promotion of Grace of the Sea in the Coastal Villages" in Vanuatu, South Pacific.
In Vanuatu, coastal resources are decreasing due to various reasons such as population growth and climate change etc. In communities that use coastal resources, voluntary resource management is carried out such as establishing taboo areas (a place where fish and shellfish should not be collected without permission), which is a traditional resource management measure. However, their knowledge on the coastal resource management is little and the effect is limited. On the other hand, though Vanuatu Fisheries Department (hereinafter referred to as "VFD"), which has the authority to enforce the Fisheries Law, aware the problems of decreasing the coastal resources, but has been unable to implement effective measures due to limited human resources.
For this reason, the project has provided support for "Community-Based Coastal Resource Management (CB-CRM)," which is carried out in cooperation between VFD and the coastal community. In the current Phase III (2017-2021) of the Project aims to further enhance the applicability and practicality of CB-CRM approach and to disseminate it in Vanuatu and the surrounding Melanesian countries. In the Project, the Project is working on to compile outcomes in an implementation guideline and disseminate in Vanuatu other than the pilot sites based on it.
As the part of this, the Project has supported to carry out trainings that are implemented mainly by counterparts who took a training on CB-CRM approach. These trainings aim to expand CB-CRM approach in Erromango Island of Tafea Province, Malo Island of Sanma Province and South West Bay of Malekula Island, Malampa Province from this year. Following the trainings conducted in March 2019, the second training was held in October 2019 for the purpose of following up. In the training, the tentative CB-CRM plans created during the first trainings were reviewed after reviewing the outline of CB-CRM approach.
In these sites, it was confirmed that they continue the activities of managing taboo areas and various plans were also formulated. For example, in South West Bay, they banned small mesh nets for catching small horse mackerel and deployed Fish Aggregating Devices (FAD) (which is a device to set in offshore for aggregating fish school) to avoid catching certain fish species intensively through the support of the counterpart of VFD.
Based on the support so far, we feel that a structure that can disseminate CB-CRM approach through the self-help efforts of local communities and staff of VFD is gradually established.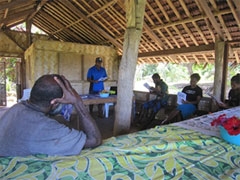 Lecture of CB-CRM approach by the counterpart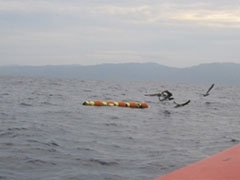 FAD deployed by the counterpart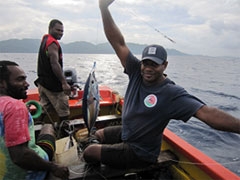 Catch of skipjack around FAD