Investing in refugee inclusion in Africa: A multi-stakeholder approach to growth and sustainable development for all
Date

2022/8/22 (Mon)19:30-21:00(JST)

Field

Peace

Type of Event

Online Webinar

Co-Host

United Nations High Commissioner for Refugees (UNHCR)
Background
While the COVID-19 crisis has been devastating, conflict and persecution have also not stopped, and levels of displacement continue to grow. The year 2020 saw the number of forcibly displaced persons reach a record high of 82.4 million. Among these, Africa hosts 6.5 million refugees and 21.8 million internally displaced persons.
JICA and UNHCR propose to co-host a high-level dialogue on how to realize the Global Compact on Refugees and its "whole of society" vision and further promote solutions throughout the African continent that tackle refugee issues across the humanitarian-development-peace nexus. The dialogue will bring attention to Uganda's and Zambia's practices to reflect on how to establish positive practices and ensure that refugees and the communities that host them are not left behind as we work toward sustainable and inclusive development in Africa.
Key Questions
Based on past experience in different contexts in Africa, what are the key success factors for effectively gathering humanitarian and development actors to boost self-reliance in displaced communities while addressing the needs of host communities?
What are the key actors, processes, and challenges in promoting inclusion to address the needs of refugees and host communities?
What is the observable impact thus far of "whole of society" approaches and private sector engagement in refugee contexts, and how can we scale this further?
Objective
Based on the GCR, shed light on integrated planning and inclusive approaches that target challenges along the humanitarian-development-peace nexus, holistically addressing the issues faced by displaced persons and those faced by host communities.
Analyze best practices that have been successful in boosting self-reliance and sustainable development for refugee and host communities in Africa and explore whether these could be scaled up and replicated in different contexts.
Inspire and call for further engagement across sectors: Promote multi-sectoral partnerships to provide solutions for displaced persons and their hosts across Africa and highlight the key role of the private sector in line with the "whole of society"approach.
Speakers
Dr. Akihiko Tanaka

President, Japan International Cooperation Agency (JICA)

Mr. Filippo Grandi

United Nations High Commissioner for Refugees, UNHCR

Mr. Hilary Onek

Minister of Relief, Disaster Risk Reduction and Refugees, Uganda

Mr. Jack Jacob Mwiimbu

Minister of Home Affairs, Zambia

Mr. Sergio Pimenta

Vice President for Africa, International Finance Corporation (IFC)

Mr. Ryuta Yoshikawa

Group Leader, UN & Fleet Sales Group (Africa Division), Toyota Tsusho Corporation

Ms. Betsy Lippman

Senior Advisor, Division of Resilience and Solutions, UNHCR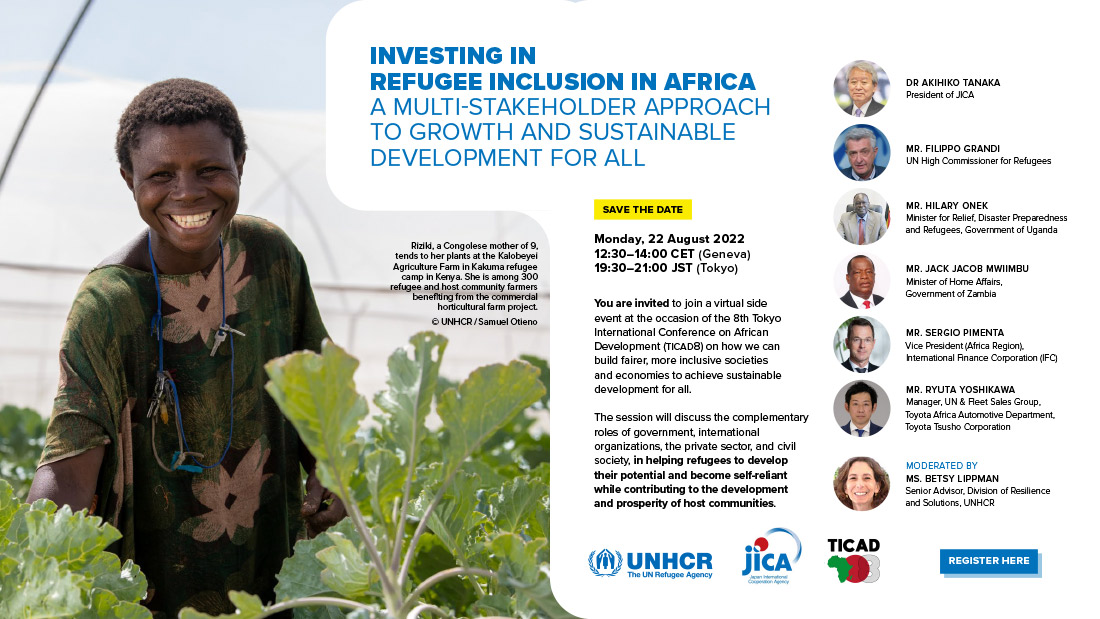 *The deadline for registration is 9:00 AM, Monday, August 22 (Japan time).