Promoting Home-Grown Solutions in Africa
Date

2022/8/26 (Fri)17:00-18:30(JST)

Field

Private Sector

Type of Event

Online Webinar

Co-Host

African Union Development Agency-NEPAD (AUDA-NEPAD)/Boston Consulting Group (BCG)/Villgro Africa
Background
The COVID-19 crisis highlighted an overwhelming reliance on imports, especially for critical medical supplies. At the same time, a number of emerging African companies have started to provide local products and services with a high level innovation and adaptation. These home-grown solutions (HGS) have the potential to address economic and social challenges and strengthen Africa's resilience.
Currently, many of these promising African companies face challenges regarding scaling their operations and the overall impact.To address this situation, various platforms, programs, and schemes to support private companies that tackle social issues are being developed.
Key Questions
What are the major obstacles that HGS companies face in expanding their businesses?
How can the public/private sector contribute to promoting HGSs?
What are some effective methods to encourage engagement by and cooperation within important actors in the field (e.g., government, international organizations, investors, etc.)?
Objective
To discuss the importance of and strategies for promoting Africa's home-grown solutions from the perspective of both the public and private sector, especially regarding approaches to mobilizing resources and attracting investment.
Speakers
Dr. Ibrahim Assane Mayaki

Former CEO, AUDA-NEPAD

Mr. KATO Ryuichi

Vice President, JICA

Mr. IWAMA Hajime

Chief Representative, JICA Kenya Office

Mr. George Murumba

Project Lead, AUDA-NEPAD

Mr. OIKAWA Takeshi

Managing Director &Partner, BCG Nairobi Office

Mr. Wilfred Njagi

Co-founder & CEO, Villgro Africa

Mr. Tope Adegun

Partner, AXA Investment Managers

Mr. HANDA Shigeru

Partner, AAIC Investment

Dr. Daphne Ngunjiri

CEO, Access Afya

Ms. Krupali Shah

Technical Director, Revital Healthcare (EPZ) Ltd

Mr. Oluwasoga Oni

CEO & Founder, Mdaas Global

Mr. Amr AboDraiaa

Co-Founder & CEO, Rology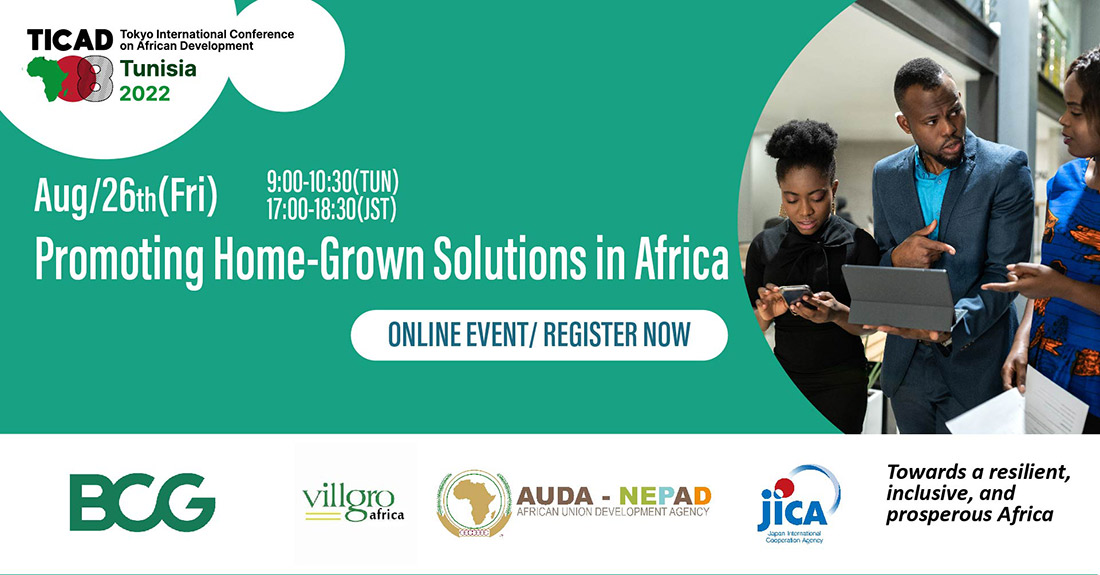 *The deadline for registration is 17:00, Thursday, August 25 (Japan time).