Deepening Regional Economic Integration - The AfCFTA and Trade Facilitation in the Post-COVID Era -
Date

2022/8/22 (Mon)19:30-21:00(JST)

Field

Regional Integration

Type of Event

Online Webinar

Co-Host

World Bank
Background
The African Continental Free Trade Area (AfCFTA) officially started trading in January 2021. To achieve full-scale economic recovery from COVID-19, it is crucial to accelerate regional integration such as through the AfCFTA and promote its adaptation to post-COVID society.
Just over a year has passed since the AfCFTA commenced operations, and the negotiations of the AfCFTA Agreement is at a critical point, that is, Phase 2 negotiations. Additionally, at the national and regional levels, African countries are in urgent need of a relevant legal framework for the effective use of the AfCFTA. Strengthening trade-related infrastructure and harmonizing customs systems are also crucial components.
Particularly at borders, promoting trade facilitation through coordinated border management in cooperation with border authorities while strengthening epidemic prevention measures and risk management are integral measures.
Key Questions
What is the role of regional integration in post-COVID economic recovery?
What is the current status of the trading environment across the world and in Africa? What is the outlook for the future? What opportunities exist for Africa to move up the value chain and promote intra-regional trade?
What are the challenges (at the continental, regional, and national levels) and countermeasures each actor faces in regional integration, especially regarding the operation of the AfCFTA and trade facilitation? What are the keys to trade facilitation in the post-COVID era / under the new normal?
Objective
To discuss the successful realization of the AfCFTA in post-COVID society, as well as relevant issues, examples of efforts, solutions, and future directions for trade facilitation and border control that support the AfCFTA, and to form a common understanding and foster momentum for deepening regional integration
Speakers
H.E. Dr. MIKURIYA Kunio

Secretary General, World Customs Organization (WCO)

H.E. Mr. Wamkele Mene

Secretary General, AfCFTA Secretariat

Ms. Amy E. Pope

Deputy Director General for Management and Reform, International Organization for Migration (IOM)

Mr. Ousmane Diagana

Regional Vice President for West and Central Africa, World Bank

Mr. NAKAMURA Toshiyuki

Senior Vice President, JICA

Ms. Boutheina Guermazi

Director for Regional Integration in Africa, World Bank

Mrs. Demitta Chinwude Gyang

Senior Advisor - Customs, AfCFTA Secretariat

Mr. Peter Benhur Nyeko

CEO, Mandulis Energy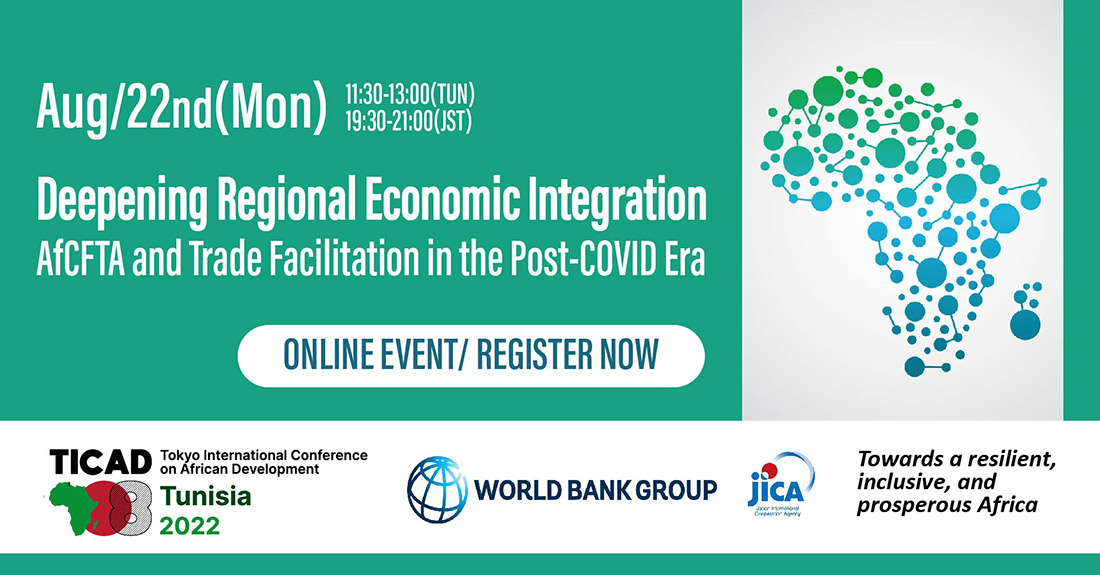 *The deadline for registration is 9:00 AM, Monday, August 22 (Japan time).