Revisiting the Impact and Future of the Corridor Development Approach
Date

2022/8/24 (Wed)19:30-21:00(JST)

Field

Corridor Development

Type of Event

Online Webinar

Co-Host

African Union Development Agency-NEPAD (AUDA-NEPAD)/GIZ
Background
The corridor development approach comprehensively integrates economic infrastructure development,industrial development,and social sector development, considering economic corridors as the key development axis. The approach has been accorded growing importance in Africa, as it enables the inclusive revitalization of the region and brings sustainable economic growth.
Since the launch of the Programme for Infrastructure Development in Africa (PIDA) in 2012, strategic infrastructure development has been underway based on the integrated corridor approach; however, the continent's infrastructure funding gap is widening due to the impact of COVID-19.
To attract investment and implement more efficient development, it is crucial to monitor the progress and impacts of infrastructure development, identify bottlenecks, and revisit the concept of corridor development with new perspectives such as green infrastructure and digital transformation (DX).
Key Questions
What progress has PIDA made in general and in specific corridors in the past 10 years? What kinds of initiatives have been established to accelerate PIDA?
What are the bottlenecks and issues in corridor development in Africa, considering its logistics and economic growth potential?
In the era of post-COVID-19 and DX, how can technologies such as big data, AI, analytics be utilized in the comprehensive/integrated corridor development approach for effective implementation, monitoring, and evaluation? What is the importance of green infrastructure in Africa, and how it can be achieved?
Objective
To share the progresses, challenges, and impacts of corridor development and PIDA and discuss how monitoring and quantitative/qualitative analysis should be utilized to define policies and mobilize financial resources
To discuss how to further promote effective infrastructure development in Africa by promoting the corridor development approach with consideration of new perspectives , such as DX and green
Speakers
Mr. TANAKA Hiroo

Director General, Infrastructure Management Department, JICA

Mr. Amine Idriss Adoum

Director, Programme Delivery and Coordination Directorate, AUDA-NEPAD

Dr. Towela Nyirenda Jere

Head of Economic Integration Division, AUDA-NEPAD

Mr. Eric Ntagengerwa

Ag Head of Division, Transport and Mobility, Infrastructure and Energy Department, AUC

Mr. Stephen Ikua

Chief Executive Officer and Director General, LAPSSET Corridor Development Authority (LDCA)

Prof. Dr. SASAKI Jin

Managing Director, Deloitte Tohmatsu Financial Advisory LLC. (Chief Consultant of JICA Study Team)

Dr. Morgan Pillay

Senior Advisor on Infrastructure and Finance, GIZ

Mr. ONODERA Hitoshi

Chief Project Manager, Infrastructure Design Section, Urban Development Department, Global Company, Pacific Consultants Co. Ltd.

Mr. MORIKAWA Jun

Sales Manager, Intraspeed South Africa (Pty) Ltd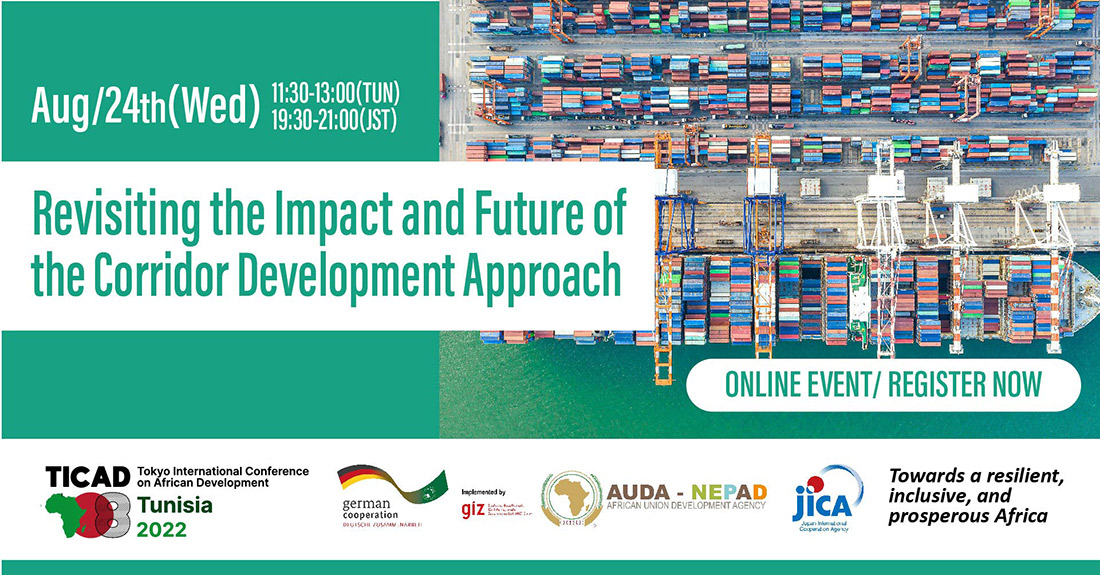 *The deadline for registration is 17:00, Tuesday, August 23 (Japan time).