Re-Imagining Resilient and Sustainable UHC in Africa
Date

2022/8/25 (Thu)19:30-21:00(JST)

Field

UHC

Type of Event

Online Webinar

Co-Host

African Development Bank (AfDB)/UNICEF/World Bank/World Health Organization (WHO)
Background
To achieve universal health coverage (UHC) in Africa, UHC in Africa, a framework to be used as a reference for African countries when developing national strategies, was launched at TICAD 6. Subsequently, TICAD 7 was an important occasion to review the three years of progress on UHC in Africa since TICAD 6 and further discuss the approach to sustainably achieving UHC. The new coronavirus disease (COVID-19) pandemic that started in late 2019 not only made it difficult to respond to the disease itself but also revealed challenges such as medical care shortage and the disruption of medical resources. The importance of resilient health systems and prevention preparedness and response (PPR) even during normal times was reaffirmed, and the promotion of UHC is more important than before to respond to emergencies while avoiding any disruption to the normal service delivery system. TICAD 8 continues to accelerate real progress and enhance global monitoring of such progress toward UHC.
Key Questions
What policy steps have countries taken toward UHC?
What are some good practices and encountered challenges identified through accelerating progress toward UHC amidst the COVID-19 pandemic?
How can strengthening efforts at the regional level contribute to improvements in the health sector and solidarity in Africa?
What can be done to reduce the burden of direct out-of-pocket healthcare expenditures so as to accelerate progress towards UHC?
How can African countries drive a multi-sectoral approach to accelerating progress to UHC?
Objective
To accelerate progress and enhance global monitoring of progress toward UHC, as a follow-up on "UHC in Africa: A Framework," in a forum for presenting country progress
To reaffirm the importance of UHC in the context of PPR in light of the lessons learned from the COVID-19 pandemic
To deepen discussion about multi-sectoral efforts toward a resilient UHC in light of the COVID-19 pandemic
Speakers
Dr. Beth Dunford

AfDB, Vice President for Agriculture, Human and Social Development

Ms. Imoto Sachiko

JICA, Senior Vice President

Dr. Aboubacar Kampo

UNICEF, Director of Health Programmes

Mr.Amit Dar

World Bank, Regional Director for Eastern and Southern Africa

Dr. Zsuzsanna Jakab

WHO, Deputy Director-General

Dr. Patrick Kuma-Aboagye

Ghana Health Service, Director General

Dr. Rebecca Kiptui

Ministry of Health, Head of UHC Secretariat

Dr. Joseph Sitienei

Ministry of Health, Head of Directorate of Health Policy Research and M&E

Dr. Babacar Gueye

Republic of Senegal Ministry of Health and Social Action, Director of Planning, Research and Statistics

Dr. Fransis Omaswa

African Center for Global Health and Social Transformation, Founder and Executive Director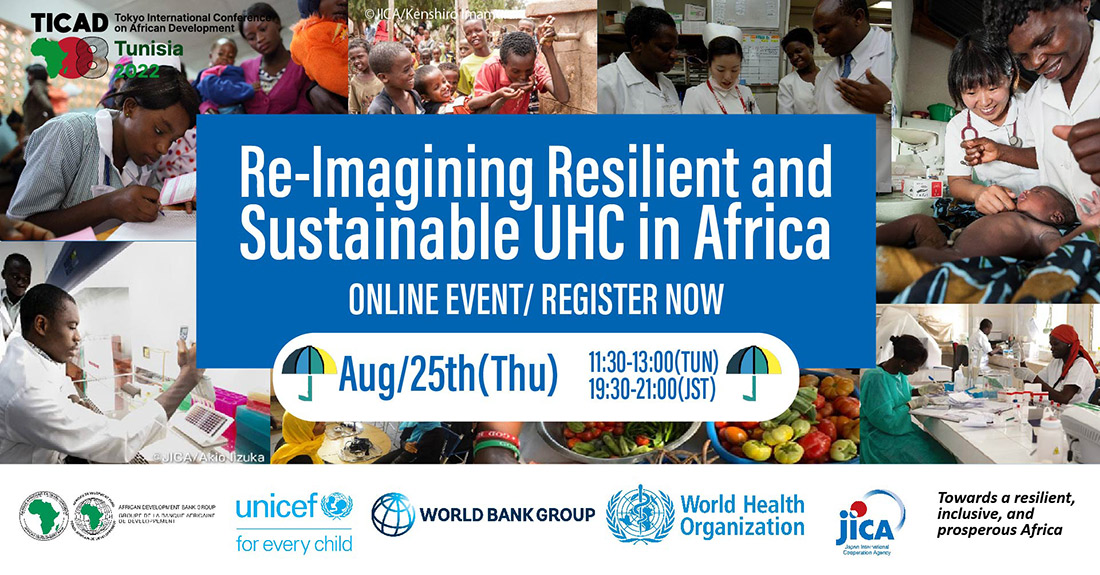 *The deadline for registration is 17:00, Wednesday, August 24 (Japan time).