Toward (Schooling and) Learning for All Children in Africa Through Community-Wide Collaboration
Date

2022/8/25 (Thu)19:30-21:00(JST)

Field

Education

Type of Event

Online Webinar

Co-Host

World Bank/UNICEF/Pratham/Association for the Development of Education in Africa(ADEA)
Background
Despite significant improvements in school attendance in recent years, in some countries and regions, quality learning, or even schooling, is far from the norm. To develop children's potential through learning and build a prosperous society, all local stakeholders, including parents, teachers, and local communities, need to build trust among themselves and work in collaboration to support children's learning and growth. JICA has supported the developme nt of such a cooperative relationship between local communities and schools to solve various educational issues through projects known as "School for All" in several African countries since its initial launch in Niger in 2003. JICA aims to further mainstream the community-wide collaboration approach to education improvement by strengthening cooperation with development partners.
Key Questions
What lessons have we learned from experiencing and responding to the COVID-19 pandemic as a learning crisis?
What are the good practices or effective approaches to improving the quality of children's learning, with a focus on community-wide collaboration?
What policies and interventions do African governments need?
Objective
To discuss the essential actions to be taken by the governments of African countries in order to improve the quality of the educational environment, with a focus on community-wide collaboration
To discuss the roles of various stakeholders including African governments (central and local), the private sector, civil society, regional organizations, and international partners in supporting children's learning
To discuss cooperative actions to be taken in order to accelerate the improvement of children's learning, with a focus on community-wide collaboration
Speakers
Mr. SAKUMA Jun

Director General, Human Development Department, JICA

Ms. RATSIMISETRA Felamboahangy

Secretary General, Ministry of Education of Madagascar

Mr. ASSANE HAMZA

Deputy Secretary General, Ministry of National Education of Niger

Ms. Meskerem Mulatu

Advisor, Africa Human Development, World Bank

Dr. SHIBUYA Tomoko

Education Chief, UNICEF Mozambique

Ms.Devyani Pershad

Head of International Collaborations, Pratham

Mr. HARA Masahiro

JICA School for ALl Project expert, Asuka World Consultants

Dr.KAYASHIMA Nobuko

Senior Research Advisor, JICA Ogata Sadako Research Institute for Peace and Development

Mr. Shem Bodo Okore

Senior Programs Officer, ADEA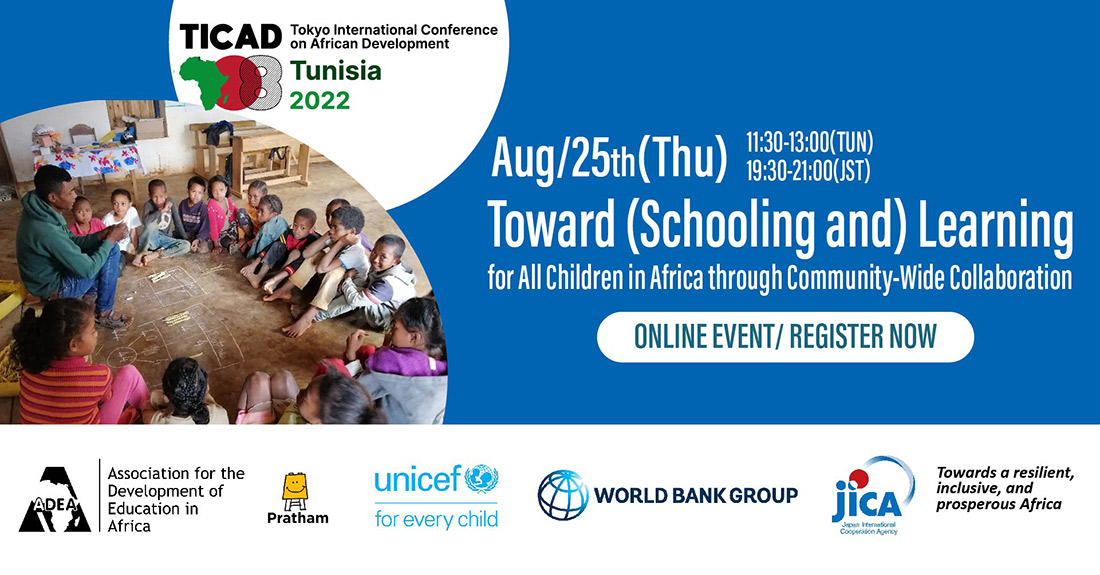 *The deadline for registration is 17:00, Wednesday, August 24 (Japan time).