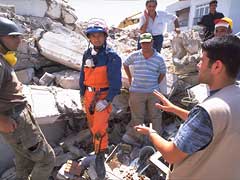 JDR team members work on site following the 1999 earthquake in Turkey.
JICA dispatches Japan Disaster Relief (JDR) teams and provides emergency relief supplies when major disasters occur, mainly in but not limited to developing areas, in response to requests received from the governments of affected countries or international agencies.
Japan's disaster relief activities date back to the late 1970s, when medical teams were dispatched to assist Cambodian refugees. In September 1987, the Japan Disaster Relief Team Law (the JDR Law) was enacted to enhance dispatch systems for rescue and expert teams. A partial revision of the Japan International Cooperation Agency Law, which involves the addition of emergency relief supplies to its scope of operation, led to the establishment of Japan' s comprehensive emergency disaster relief system.
The JDR Law was partially amended in June 1992, making it possible for the Minister for Foreign Affairs, after consultations with the Minister of Defense, to send teams from the Japanese Self-Defense Force units when large-scale aid is required following a large-scale disaster and self-sufficient activities are required in the disaster area.
JDR Activities
As personnel assistance, JICA's Disaster Relief Program dispatches rescue teams, medical teams, and expert teams and provides emergency supplies as material assistance.
The main tasks of the Rescue Team are to search for missing people, rescue victims, provide first aid, and move victims to safety. The tasks of the Medical Team are to diagnose or to assist in the diagnosis of victims, and when necessary they work to prevent infection and the spread of diseases. The Expert Team, meanwhile, takes stopgap measures in the wake of disasters and provides guidance and advice on how best to achieve recovery.
In the wake of a large-scale disaster, the Self-Defense Forces can be dispatched when such a dispatch is deemed necessary. SDF personnel carry out emergency relief activities (rescue activities, medical activities, stopgap measures, reconstruction), transport activities using ships, aircraft, and helicopters, medical and disease prevention activities, and water supply activities using water purifiers.
The provision of materials includes emergency relief supplies, such as blankets, tents, water purifiers, generators, and pharmaceutical products to assist in the recovery process.
Enhanced Alliance
Usually, major countries' aid agencies and international organizations provide relief support at the site of a large-scale disaster. The United Nations Office for the Coordination of Humanitarian Affairs (UNOCHA) takes the initiative to build systems for coordinating these disaster relief activities. JICA actively develops alliances with related organizations in order to contribute to the swift implementation of relief services at the disaster site.
JICA also cooperates with Japanese NGOs operating in affected areas in order to implement more effective operations.
Stockpiling Supplied at Bases around the World for Rapid Responses
To facilitate the rapid and reliable supply of the large-volume of relief items, reserve supplies must be procured and appropriately stockpiled in advance at locations as close as possible to disaster areas. Accordingly, JICA has warehouses worldwide, in Germany (Frankfurt), Singapore, and the United States (Miami). In addition, JICA signed an agreement in 2011 with the World Food Programme (WFP) to use the United Nations Humanitarian Response Depot (UNHRD) in Accra (Ghana), Dubai and Subang (Malaysia), all of which is operated by the WFP. When needed, we use relief supplies stored at the UNHRD by other aid organizations or procure the necessary items in the country where the disaster occurred. Eight priority goods are stockpiled at these four locations—tents, sleeping pads, plastic sheeting (tarpaulins), blankets, portable water containers (plastic jerry cans), water tanks, water purifiers and electric generators. In cases where other types of supplies are required, JICA takes emergency action, including procurement in affected or neighboring countries. When requested, emergency medical supplies are procured from the United Nations Children's Fund (UNICEF) Supply Division in Denmark or the International Dispensary Association (IDA) in the Netherlands and are rapidly shipped to affected countries.
Japan's International Disaster Relief

Enlarge (PDF/402KB)
Dispatching of Japan Disaster Relief Team and Provision of Emergency Relief Supplies (April 2013 – June 2014)
Disaster occurrence date
Country
Type of disaster
Type of relief
Value of material aid/No. of persons
May-13
Kenya
Flood
Provision of supplies
Approx. ¥16 million
May-13
Marshall Islands
Drought
Provision of supplies
Approx. ¥8 million
May-13
Zimbabwe
Hailstorm
Provision of supplies
Approx. ¥12 million
Aug-13
Myanmar
Flood
Provision of supplies
Approx. ¥13 million
Aug-13
Sudan
Flood
Provision of supplies
Approx. ¥16 million
Sep-13
Niger
Flood
Provision of supplies
Approx. ¥16 million
Oct-13
Cambodia
Flood
Provision of supplies
Approx. ¥32 million
Oct-13
Cameroon
Flood
Provision of supplies
Approx. ¥10 million
Oct-13
Philippines
Earthquake
Provision of supplies
Approx. ¥38 million
Nov-13
Philippines
Typhoon
Medical team
81
UNDAC Member
2
Provision of supplies
Approx. ¥60 million
Expert team
17
Expert team
5
Self-Defense Force Units
1119
Nov-13
Palau
Typhoon
Provision of supplies
Approx. ¥2 million
Nov-13
South Sudan
Flood
Provision of supplies
Approx. ¥18 million
Jan-14
Tonga
Cyclone
Provision of supplies
Approx. ¥13 million
Feb-14
Bolivia
Flood
Provision of supplies
Approx. ¥19 million
Feb-14
Burundi
Flood
Provision of supplies
Approx. ¥12 million
Feb-14
Zimbabwe
Flood
Provision of supplies
Approx. ¥13 million
Mar-14
Malaysia
Disappearance of a Plane
Rescue team
20
Apr-14
Solomon Islands
Flood
Provision of supplies
Approx. ¥13 million
May-14
Afghanistan
Landslide
Provision of supplies
Approx. ¥11 million
May-14
Serbia
Flood
Provision of supplies
Approx. ¥12 million
May-14
Bosnia and Herzegovina
Flood
Provision of supplies
Approx. ¥12 million
May-14
Croatia
Flood
Provision of supplies
Approx. ¥11 million
May-14
Paraguay
Flood
Provision of supplies
Approx. ¥19 million
Case Study