July 2021
In May-June 2021, the Japanese expert team arrived in Mozambique to launch the Project for Expansion of New Curriculum in Mozambique. The project is nicknamed "PRICEP," an acronym for the Portuguese phrase "Projecto de Reforço à Implementação do Currículo do Ensino Primário."
PRICEP will be implemented for approximately six years, from March 2021 to February 2027, with the overall goal of improving academic performance of pupils on mathematics and natural science at primary school level. It is a unique and large-scale project that comprehensively addresses the revision of mathematics and natural science curricula and textbooks, pre- and in-service teacher training, and the strengthening of educational assessment system.
Right after the Japanese experts arrived in the country, the Mathematics Team was set up to revise the current primary mathematics curriculum and textbooks. Five technical officers were assigned to the team, and together with the Japanese experts, they are currently reviewing the scope and sequence of the curriculum. After the review work is completed, we will start writing the textbook for the first grade.
The launch of the Teacher Education Team, which will be in charge of pre- and in-service teacher training, is also underway. Based on the results of the analysis on the existing teacher training system and the use of ICT, the team will discuss with the Mozambican side the detailed design of the project technical assistance.
The first Joint Coordination Committee (JCC) meeting was held on June 4, where the work plan was agreed upon with the Mozambican side. We will be reporting on the progress of the project through this website. We hope that you will visit our website and learn more about Mozambique and our project!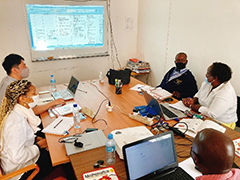 Mathematics Team discussing curriculum revision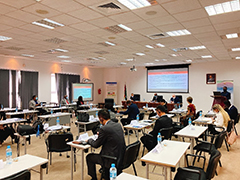 Joint Coordination Committee (JCC)