November 2021
From October 18 to 22, 2021, the first training in Japan (Part 1) (hereinafter referred to as "the Training") was conducted online between Mozambique and Naruto University of Education. The objective of the Training was for the Mathematics and Natural Science team members of the project to deepen their understanding of the subject contents and teaching methods, and apply them to the curriculum and textbooks revision.
The first training in Japan was originally planned to be held in Japan. However, due to the pandemic of COVID-19, the participants were not able to come to Japan. Therefore, the training was divided into two parts, Part 1 and Part 2, with Part 1 focused on the contents that should be provided as soon as possible and could be conducted remotely, and Part 2 focused on the contents better conducted in Japan. (Part 2 is planned for 2022.)
The Mathematics team is currently revising the textbook. During the Training, they attended online lectures in the morning, in which they compared the structure and contents of Mozambican textbooks with those of Japan and other countries. Based on the morning session, they worked on revising textbooks in the afternoon. On the other hand, the Natural Science team, which was started their project activities from this October, is currently revising the curriculum. During the Training, the team reviewed the structure and contents of the Mozambican Natural Science curriculum by comparing it with the Japanese one. (The contents covered in "Natural Science" differs among countries. We will show the details at another time.)
Although the Training was not conducted in Japan but in a different way (online), the participants gave positive comments on the Training: "It was a good opportunity to analyze and review our curriculum", "Even though it was online, I was able to deepen my understanding thanks to the lecturers who answered my questions carefully", etc. The same as for the Training, the project will continue to implement the activities in any new situation. Updates on the project will be posted from time to time. Please look forward to it!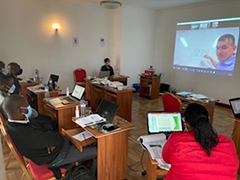 Online lecture (Mathematics team)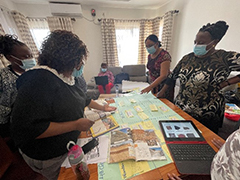 Discussion (Natural Science team)