Located at the northwestern tip of Africa, Morocco is one of the countries in the Maghreb region, whose name means "place where the sun sets" in Arabic. The country has a rich cultural diversity connecting Africa, the Middle East, Europe and North America.
In Africa, JICA has been proactively implementing assistance that makes use of the technology and expertise of private companies. In Morocco, we are introducing made-in-Japan techniques such as water-saving agricultural methods to solve local development issues while supporting Japanese companies to start and expand their businesses. Serving as a catalyst for the exchange of technology and wisdom between the Land of the Rising Sun and the place where the sun sets, JICA is implementing initiatives that result in a gain for both countries.
In recent years, the Moroccan government has been hosting various international conferences including the 2016 United Nations Climate Change Conference (COP22). The First Annual Meeting of the African Clean Cities Platform (ACCP) was also held in the Moroccan capital of Rabat last year. Moreover, recent global concepts and strategies, including the Blue Economy that seeks to ensure sustainable development for marine resources, have been undertaken here in Morocco.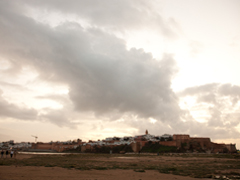 A Moroccan sunset. Northwestern Africa is known as the Maghreb region. In Arabic, "Maghreb" means "place where the sun sets."
Photo:Shinichi Kuno/JICA.