Mozambique faces the Indian Ocean in southeastern Africa. A long coastline of 2,700 km extends from north to south, and logistics routes called corridors connect the inland to trade ports such as Maputo and Nacala. The Nacala Corridor in the north, especially, has great potential for development and was designated one of Japan's three "priority regions of Africa" at the 6th Tokyo International Conference on African Development (TICAD VI) held in Nairobi in 2016.
Maputo City, the capital of Mozambique, is at the southern end of the country, near the border with South Africa. The region is expected to see a significant increase in power demand in the future, and JICA is proceeding with a 100 megawatt-class combined gas-fired power plant construction project in Maputo.
In addition, the "African Clean Cities Platform," which aims to solve the problem of garbage in Africa, was launched in Maputo City in 2017. JICA had already been providing support for waste management in Maputo City, including Japan Overseas Cooperation Volunteers' environmental awareness activities. Such efforts are gradually increasing local environmental awareness.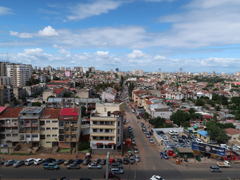 Maputo City, the capital of Mozambique, is located at the southern end of the country. The city was built and developed by the Portuguese in the 18th century as a port town on the Indian Ocean.