Former British Prime Minister Winston Churchill called Uganda "the Pearl of Africa" for its beautiful nature. Uganda shares its borders with Kenya, Rwanda, Democratic Republic of Congo, South Sudan, and Tanzania, making it a strategic logistics point of traffic in East Africa.
JICA supported the construction of a new bridge in Uganda on the "Northern Corridor," the important international main roads connecting these neighboring countries. The building of the bridge contributes to facilitate the smooth logistics in Uganda as well as in the East Africa region.
While Uganda is a significant country in terms of regional logistics, it is also a vital key to regional stability. JICA aims to stabilize the East Africa region through its assistance to the Northern Uganda community, where they accept refugees from countries including South Sudan and Democratic Republic of Congo, making them the host of the largest refugee settlements in the world.
On the other hand, 2018 marked the 50th anniversary of JICA's support to Nakawa Vocational Training Institute and Uganda BTVET (Business, Technical and Vocational Education and Training). The Nakawa Vocational Training Institute has been at the core of the support, and it is also contributing the industrial sector of East Africa by providing skills training not only in Uganda but expanding to train engineers in neighboring countries such as Kenya and Tanzania.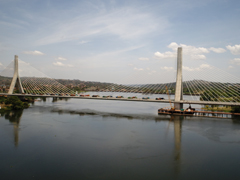 The newly built "Source of the Nile Bridge" on the Northern Corridor plays an important role in the economic development of East Africa.