Mali is located to the south of the Sahara. The region is called the Sahel, which means "shore" in Arabic. The northern third of the country is covered in desert, while the southern part belongs to the Savanna climate zone, with agricultural land in the basin of the Niger River flowing through the country.
The Sahel currently faces extremely difficult challenges, including poverty, food crisis, desertification, and political instability. Mali, in the middle of the Sahel, represents this region symbolically. In 2012, ethnic conflicts caused a riot that led to a coup d'état and divided the nation. Although it reached the peace agreement in 2015 after the military intervention by its former suzerain state of France, Mali is still in instability with frequent terrorist incidents and ethnic conflicts, especially in the northern part of the country where Muslim extremists have taken control.
In Mali, JICA has various cooperation projects for human resources development in terms of governance, police, and education sectors. JICA aims to propel the development of Mali by fostering its human resources and eventually achieve stability in the Sahel region.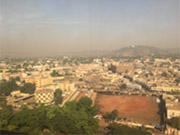 In Bamako, Mali's capital city, the temperature often exceeds 37℃ during the dry season from March to May, and the city is covered with dust from the Sahara Desert