Gabon is a country in Central Africa facing the Gulf of Guinea and the vast area of the country is covered by tropical rainforests. In fact, the forest is the second-largest rainforest in the world after the Amazon and it is well known as the "Earth's second lung". In such context, the government of Gabon considers environmental preservation as one of the country's big challenges. To help protect the rainforest as well as its biodiversity in Gabon, JICA has implemented several projects such as construction of a forest resources database and eco-tourism promotion.
Gabon is also known for Dr. Albert Schweitzer's work. The doctor dedicated himself to medical care for the community of Lambaréné, an inland town of Gabon. He was called a "jungle saint" and given the Nobel Peace Prize. The clinic that he opened there later became the Hôpital Albert Schweitzer in Lambaréné, and now JICA is carrying out a joint research project on infectious diseases at the Center of Medical Research Lambaréné (CERMEL) built next to it.
This project is funded by the Japanese government's "Science and Technology Research Partnership for Sustainable Development" (SATREPS) program. JICA provides certain support through this project in order to find solutions to the global issues facing Gabon based on local needs and perspectives.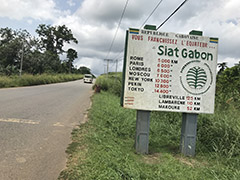 A sign standing right on the equator in Gabon saying "14,400km to Tokyo"