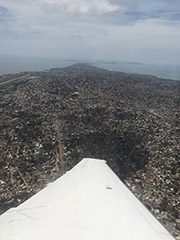 Aerial view of the port city of Conakry located on a peninsula thrusting out into the Atlantic Ocean
Guinea is a West African country rich in nature. In the western part of the country lies a rainforest along the Atlantic Ocean, while vast grassland spreads in the inland region on the other side of Fouta Djallon Mountains. Fouta Djallon is the source of major African rivers, such as the Niger and Senegal rivers, thus being called 'Africa's water jar' or 'Africa's water tank'.
Despite its rich natural resources of abundant water, rich forests, ocean resources from the Gulf of Guinea and underground resources including bauxite and diamonds, the country has continuously suffered from coups and other social instability, and is yet to achieve economic growth utilizing its resources. Moreover, the country was devastated by the Ebola epidemic starting in 2014, which resulted in thousands of infections and deaths in Guinea and its neighboring countries of Liberia and Sierra Leone, and caused enormous damage to its economy.
To support Guinea's post Ebola recovery and help build a stronger foundation of the country, JICA is undertaking assistance initiatives for infrastructure development, such as transportation and water networks, food-related assistance including marine resource conservation and rice cultivation, and reinforcement of healthcare system.
Improving Citizens' Lives Through Infrastructure Development
The Guinea's National Route 1 stretches from Conakry, the capital and largest port city, to inland regions. As the Kaaka Bridge on this major east-west artery of the country became too old, a new bridge was recently built with support from JICA.
The bridge, located on a sloping mountain road with sharp curves, was rebuilt using Japan's advanced technologies. After a halt of a year and 8 months due to the Ebola outbreak, the bridge was completed in June 2017. The new bridge is equipped with solar-powered streetlights and speed bumps to control speed of vehicles, and significantly improved the safety of drivers. JICA is also planning a reconstruction of the Soumba Bridge on the National Route 3, which is at risk of collapse also due to aging.
JICA is also working on support for development of a water supply system in Conakry. The city has an annual rainfall of 4,000 millimeters, but due to the growing population and insufficient water supply facilities, there was a serious water shortage especially in the hilly areas. JICA has implemented various measures, including replacement of water distributing pipes, construction of deep wells, arrangement of water trucks, and dispatch of advisors on prevention of water leakage or water stealing. As a result, the citizens of Conakry are getting better access of safe water.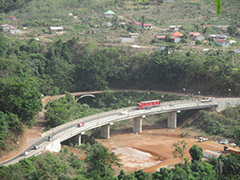 New Kaaka Bridge with enhanced safety
Construction of water distributing pipes in Conakry
Photo: Japan Techno Co., Ltd.

Blue Economy For Diversified Industry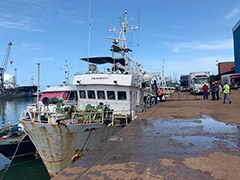 The Lansana Conte waiting for renovation
In recent years, 'Blue Economy', the concept of economic development through ocean resource conservation, is attracting growing attention in Africa. The theme was also discussed in a meeting at the 7th Tokyo International Conference on African Development (TICAD7) in August 2019, where Japan announced a plan to provide human resource development for 1,000 people in three years in the areas of fisheries, port facility management and maritime security.
Guinea has West Africa's largest continental shelf along the Atlantic coast of Guinea with rich marine resources. Sustainable development of fisheries through conservation of the marine resources is an essential goal for a stable food supply for the people in Guinea.
The Lansana Conte, a fisheries research vessel that was built with financial assistance from Japan, has been used for research of marine resources for 15 years. JICA is planning an overhaul of the aged vessel and replacement of old equipment and parts, so that it can continue playing an active role in the enhancement of Guinea's Blue Economy.
Growing Expectations for Rice Projects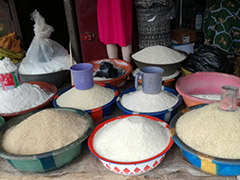 This is how rice is sold in Guinean markets
Guinea's staple food is rice. The country's mild climate, vast farmland and abundant rainfall are all advantageous for agriculture, especially rice cultivation. Despite such high potential for rice production, the country's self-sufficiency rate of rice is as low as 70%, forcing it to depend on 500,000 tons of rice imports annually.
Through the Coalition for African Rice Development (CARD), launched by Japan at TICAD IV in 2008, rice production in Africa doubled in the following ten years. Continuation of the initiative was confirmed at TICAD7 and a new target was set to further doubling rice production by 2030. Guinea, a major rice-production country in West Africa, is a participant in the CARD.
JICA dispatched advisors on management of agricultural development to Guinea from December 2017 to December 2018. To further promote the assistance, especially in the area of rice cultivation, JICA will start in early 2020 a new project aiming at quality improvement and production increase of Guinean rice. It will be JICA's first full-blown technical cooperation project in Guinea.
To Prevent Further Outbreak of Infection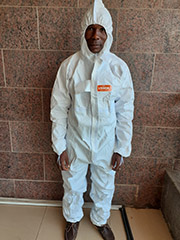 Toray's disposable virus protective clothing being promoted in Guinea
The Ebola epidemic started in West Africa with the infection of a two-year old boy in Guinea in December 2013. It took three long months until Institut Pasteur in France identified the virus to be Ebola, but in the meantime, the infection had widely spread within and beyond the country.
JICA conducted a survey on Guinea's healthcare sector after the end of the outbreak and discovered that the National Institute of Public Health, which is supposed to play a critical role for viral diagnosis, had not been able to take necessary measures such as inspection, research and training of researchers. To prevent future outbreak of infectious diseases, JICA is currently preparing a project to upgrade facilities and equipment in the Institute.
A Japanese private firm is also demonstrating its presence. In 2017, Toray Industries, Inc. provided Guinea with 10,000 sets of virus protective clothing it developed, in response to a request from the government of Guinea. In addition, the company, through JICA's public-private partnership program, is conducting training on appropriate usage of the virus protective clothing and human resources development programs, in a bid to promote the anti-virus clothing in the country.