A year ahead of the 2020 Olympic and Paralympic Games, the power of sport is attracting more and more attention in Japan. On the sideline of the 7th Tokyo International Conference on African Development (TICAD7) conference, JICA and its development partner agencies, World Bank and French Development Agency (ADF), co-hosted a side event called "Sports for Africa" on August 27, 2019.
When two world-renowned athletes, Ms. Tegla Loroupe from Kenya, the former world record holder in women's marathon and Ms. Naoko Takahashi, the 2000 Sydney Olympic gold medalist in women's marathon, shared about their endeavors to change the world through sport, the audience burst into enthusiastic applause.
There were also presentations on topics such as African people's perception of sport and JICA's activities in sport-related fields. The event served as an opportunity to reaffirm the significant role that sport can play for Africa's development, in the areas such as health, education and social inclusion effort to include the socially vulnerable, as well as capacity building of women, youths, individuals and communities.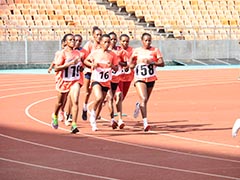 Tanzania's first women's track and field competition was held with support from JICA to promote women's empowerment
Photo:JICA Tanzania Office