The number of forcibly displaced such as refuges and internally displaced people worldwide is now over 70.8 million, marking an unprecedented record high. While over one third of such persons are received by Africa, it is important for the international community to share the responsibility and support hosting countries to ease the pressures.
On August 29, 2019, on the occasion of the 7th Tokyo International Conference on African Development (TICAD 7), JICA co-hosted a high-level side event "Towards Enhanced Partnership and Solidarity to Support the Forcibly Displaced Persons in Africa" with the African Union Commission (AUC), the Office of the United Nations High Commissioner for Refugees (UNHCR), and UN Office of the Special Adviser on Africa (UNOSAA) to discuss how the international community should expand partnership and solidarity to promote durable solutions to forced displacement in Africa.
The event was joined by the government representative of a refugee-receiving country, a representative of refugee community as well as the private sector that provides support for refugees to share their respective points of view.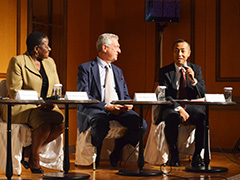 Speakers including representative of refugees gave reports and proposals at the panel discussion