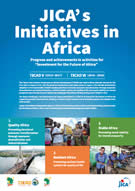 Promoting structural economic transformation through economic diverification and industrialization
Promoting resilient health systems for quality of life
Promoting social stability for shared prosperity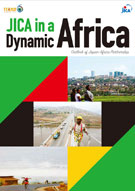 Through photos and data, the pamphlet visually introduces JICA's achievements in African assistance in a wide range of fields, including infrastructure building, human resource development, agriculture, education, and peacebuilding.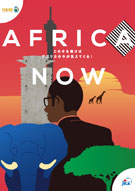 The pamphlet concisely introduces the current ties between Africa and Japan through 26 keywords, listed from A to Z. It also introduces the activities and lives of Japanese living in Africa.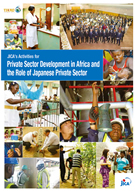 The pamphlet outlines JICA's efforts to develop the African private sector and collaborate with the private sector in an easy-to-understand manner. It introduces the private-sector partnership program, overseas volunteer programs in collaboration with the private sector, and the ABE Initiative.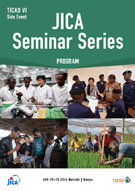 It also outlines JICA's program of side events at the Sixth Tokyo International Conference on African Development (TICAD VI).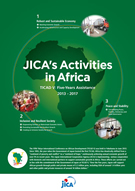 This pamphlet introduces JICA's assistance to Africa.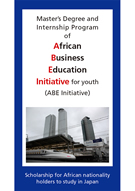 This pamphlet introduces the ABE Initiative of programs expected to link Japan and Africa and foster pilots of African business.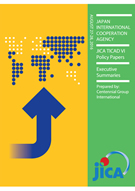 JICA TICAD VI Policy Papers : Centennial Group International
These 7 papers in a handy style propose comprehensive prospects and policy recommendations toward Africa 2050.
Links to TICAD-related reports, contributed articles, etc.